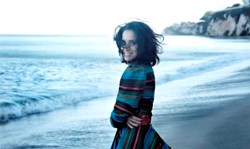 Santa Monica, California (PRWEB) January 23, 2014
Canadian recording superstar Chantal Kreviazuk will perform a benefit concert for New Roads School on Friday, February 21st at 7:30pm at the Moss Theater, located on the New Roads School campus at 3131 Olympic Boulevard. The evening will feature opening performances by Folk City, Utah, New Roads High School's folk band, and a special guest appearance by Raine Maida, front man for the award-winning, multi-platinum Canadian rock band Our Lady Peace and a prolific songwriter and solo artist.
Tickets for the concert and exclusive VIP reception catered by Melisse restaurant can be purchased at http://chantalnewroads.brownpapertickets.com. Space is limited and ticketing is on a first come, first served basis. All proceeds from the event will benefit New Roads School's educational programs.
"New Roads School is honored that Chantal and Raine - two outstanding artists and cherished members of our community - will share their musical gifts with us in this way. This gesture is in keeping with the generosity and commitment to educational access that this exceptional couple is known for," said Walter Landberg, head of New Roads School.
Chantal Kreviazuk is a Canadian-born and classically trained recording artist, songwriter and musician. She has recorded one live and five studio albums, and her recordings have been featured in many film and TV projects including covers of John Denver's "Leaving on a Jet Plane" (Armageddon soundtrack), Randy Newman's "Feels Like Home" (Dawson's Creek and the film How to Lose a Guy in 10 Days) and the Beatles' "In My Life" (Providence). She has collaborated with and written music for artists including Pink, Carrie Underwood, Avril Lavigne, Kelly Clarkson and Josh Groban. She is also known for her Grammy award-winning vocal collaboration with rapper Drake in 2011, and for co-writing the hit song "Feel This Moment" with Pitbull featuring Christina Aguilera. Chantal and Raine have been married for more than a decade and have three sons attending New Roads Elementary School.
Raine Maida is the founding member and lead singer of the multi-platinum rock band, Our Lady Peace, and considered one of the best songwriters in music today. In 1998, Our Lady Peace founded the Summersault festival that toured across Canada in 1998 and 2000. In addition to his success as a front man, Maida has written and produced songs for some of the biggest names in modern music, including collaborating on three songs with American Idol winner David Cook on his self-titled album.
Chantal and Raine collaborated to write three songs for American Idol winner Kelly Clarkson and recently co-wrote the song, "Permanent" for Cook. Other artists they have worked with include Martha Wainwright, Carrie Underwood, The Veronicas, Pink, Cheyenne Kimball, Katie Melua and Ron Sexsmith and Meat Loaf to name a few.
Beyond their creative collaborations, Chantal and Raine share a powerful commitment to social activism and advocacy, spending nearly as much time working on humanitarian causes as they do in the recording studio. The Canadian Academy of Recording Arts and Sciences (CARAS) called them "one of Canada's most influential cultural couples, sharing a passion and commitment that goes well beyond music," honoring them with the 2014 Allan Waters Humanitarian Award. Chantal is an honorary founder of War Child Canada has traveled with Raine to Iraq, Ethiopia and the Sudan advocating for women's rights, war refugees and child education. Raine has filmed documentaries in Darfur, Iraq, and Ethiopia for War Child's, and launched the organization's "Busking for Change" program.
Chantal has worked with Canadian Mental Health Association to erase the stigma of mental illness; partnered with Polar Bears International to protect habitats and address climate change; fundraised in support of B.C.'s Baldy Hughes Therapeutic Community and has been an advocate and donor on behalf of The Opportunity Fund, which raises education funding for disadvantaged kids. Maida has lent support to "Apathy is Boring", a project that encourages youth to participate in the political process, along with The Hospital for Sick Children in Toronto and the LadyBug foundation.
About New Roads School
New Roads School is an innovative, fully-accredited K-12 independent school serving more than 650 students on campuses in West Los Angeles (grades K-5) and Santa Monica (grades 6-12), California. New Roads is committed to nurturing the curiosity of each student while delivering top-quality college preparatory education to a student body representing the broad economic and cultural diversity of Greater Los Angeles. To back up that commitment, New Roads provides approximately 51% of its students with need-based financial aid each year.