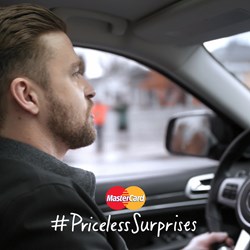 The success of Priceless is driven by the campaign's ability to create emotion, influence behavior, unite people and touch upon consumer passions
New York, NY (PRWEB) January 23, 2014
It's hard to image Justin Timberlake knocking on a lucky fan's door but MasterCard is building excitement for the reveal of "Priceless Surprises" and promises consumers won't want to miss it.
Kicking off on "Music's Biggest Night" – The 56th Annual GRAMMY Awards with world renowned artist and entertainer Justin Timberlake, MasterCard will be surprising cardholders and inspiring them to give, get and share Priceless Surprises.
Priceless Surprises represents the next evolution of Priceless - an emotion, that transcends geographies and demographics and that's why it's sustained over time. The platform has evolved from celebrating Priceless moments to enabling Priceless experiences and inspiring people to share all that is priceless through surprises.
"The success of Priceless is driven by the campaign's ability to create emotion, influence behavior, unite people and touch upon consumer passions," said Raja Rajamannar, chief marketing officer, MasterCard. "Priceless Surprises is an evolution from celebrating priceless moments and enabling priceless experiences to inspiring Priceless in new and unexpected ways."
MasterCard aims to reach cardholders individually in a way that is meaningful, not only through marketing and advertising, but also through their products and solutions. As a company, MasterCard is focused on driving forward innovations and advancements in payments that help to drive a more meaningful consumer experience and enhance the safety, security and convenience of every transaction.
For more information, downloadable images and video, media can visit http://magicbulletmedia.com/MNR/PricelessSurprises
About MasterCard
MasterCard, http://www.mastercard.com, is a technology company in the global payments industry. We operate the world's fastest payments processing network, connecting consumers, financial institutions, merchants, governments and businesses in more than 210 countries and territories. MasterCard's products and solutions make everyday commerce activities – such as shopping, traveling, running a business and managing finances – easier, more secure and more efficient for everyone. Follow us on Twitter @MasterCardNews, join the discussion on the Cashless Pioneers Blog and subscribe for the latest news on the Engagement Bureau.