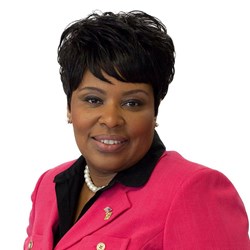 "As the founder and CEO of WVI, I am extremely honored that we have been selected as the sole beneficiary of the 2014 BET Honors," said Ginger Miller.
Washington, DC (PRWEB) January 25, 2014
BET Networks announced it will partner with Women Veterans Interactive (WVI)an organization that helps restore hope, provides housing options, and support for veterans and their families in need, for its 2014 "BET Honors."
As part of BET's commitment to supporting the community, the network has made a limited number of tickets to the star studded show available for purchase, with all proceeds going to WVI. "BET Honors" celebrates distinguished African American performing at exceptional levels in the areas of music, literature, entertainment, media, service and education. "BET Honors" will air on BET Networks on Monday, February 24 at 9pm ET.
"As the founder and CEO of WVI, I am extremely honored that we have been selected as the sole beneficiary of the 2014 BET Honors," said Ginger Miller.
Members of WVI and its supporters are greatly looking forward to attending the annual event, hosted this year by Wayne Brady. "It will be a once-in-a-lifetime experience to be surrounded by honorees like Aretha Franklin, Barry Gordy, and Ice Cube," said Miller.
"This prestigious recognition is already resonating throughout the nation, sending a message of hope and appreciation to women veterans for their service to our country. On behalf of all female service members and veterans, I salute Debra Lee and BET for supporting our organization, as well as the women we serve. This great honor will assist us in sustaining our programs that provide for homeless women veterans and any who are at risk of being homeless."
In addition to leading WVI, Miller serves as the Chairwoman of the Commission for Veterans in Prince George's County, Md. The White House also recognized her in 2013 as a Champion of Change for Women Veterans.
Miller knows firsthand the challenges facing female service members upon separation from the military. When she separated from the Navy in 1992, Miller found herself homeless while raising her two sons and caring for her husband, a disabled veteran who had served in the Marine Corps. She worked three jobs and attended college full time while she struggled in silence with her husband's untreated Post-Traumatic Stress Disorder (PTSD).
"My thoughts were that if it happened to me, there have to be thousands more just like me who are suffering in silence, homeless, or at risk of becoming homeless," said Miller. "Homelessness does not occur overnight. It is something that can be avoided if addressed properly and in a timely fashion."
Transitioning out of the military can be a daunting task. When coupled with depression, unemployment, PTSD, military sexual trauma, and divorce, women veterans – many of them single parents – may also find themselves facing homelessness. According to the Department of Veteran Affairs, many women separate from the military and do not identify themselves as veterans. By doing this they are unknowingly depriving themselves of available assistance.
"Many women veterans isolate themselves due to feelings of shame resulting from being homeless, or not being able to provide adequately for their families," said Miller. "We want to help them rebuild their sense of pride."
About Women Veterans Interactive
Women Veterans Interactive (WVI) was created to address these kind of unique, and often unrecognized, challenges facing our nation's 1.8 million woman veterans as they return to civilian life. WVI provides outreach and support services to more than 850 women veterans and the organization has members in 15 states.
WVI focuses on meeting women veterans at their point of need and breaking down the barriers that lead to homelessness. Their mission, "Supporting Women Veterans through Advocacy, Education, Interaction, Outreach and Unification – AEIOU," emphasizes a proactive approach to ensuring women veterans are not alone in the fight to better their lives and the lives of their families.
For more information on WVI and its mission visit http://www.womenveteransinteractive.org.
About BET Networks
BET Networks, a subsidiary of Viacom Inc, is the nation's leading provider of quality entertainment, music, news and public affairs television programming for the African-American audience. The primary BET channel reaches more than 90 million households and can be seen in the United States, Canada, the Caribbean, the United Kingdom and sub-Saharan Africa. BET is the dominant African-American consumer brand with a diverse group of business extensions: BET.com, a leading Internet destination for Black entertainment, music, culture, and news; CENTRIC, a 24-hour entertainment network targeting the 25- to 54-year-old African-American audience; BET Digital Networks - BET Gospel and BET Hip Hop, attractive alternatives for cutting-edge entertainment tastes; BET Home Entertainment, a collection of BET-branded offerings for the home environment including DVDs and video-on-demand; BET Event Productions, a full-scale event management and production company with festivals and live events spanning the globe; BET Mobile, which provides ringtones, games and video content for wireless devices; and BET International, which operates BET in the United Kingdom and oversees the extension of BET network programming for global distribution.