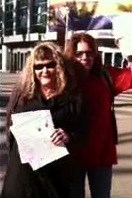 If the music loving, music buying public knew how badly musicians and singers are treated by the giant corporations we are forced to deal with, they would be appalled. - Exene Cervenka (X)
Anaheim, CA (PRWEB) January 24, 2014
Exene Cervenka (X) said today that she will participate in the protest against Guitar Center and KMC Music that will take place on Saturday, January 25, at the 2014 National Association of Music Merchants (NAMM) Show at the Anaheim Convention Center.
Michelle Mangione and Steve Soest, local independent musicians and industry veterans, launched the protest Wednesday.
"If the music loving, music buying public knew how badly musicians and singers are treated by the giant corporations we are forced to deal with, they would be appalled," Cervenka said.
Many music industry leaders and hall of fame musicians have lent their support for the protest.
Website: http://michellemangione.com/mangione-soest-rise-against-corporate
Contact info: Michelle Mangione (949) 923-0502
Email: michelle(at)michellemangione(dot)com