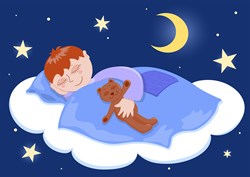 With persistence parents can end the nightly battles and maintain peace when putting their children to bed.
New York, New York (PRWEB) January 28, 2014
Many parents feel anxiety over the nightly grind of bedtime. It seems some children were born soldiers ready to fight the battle of resisting going to bed. This leaves parents feeling frustrated and hopeless, resulting in beliefs that they will be subjected to these nightly battles for years to come. Child sleep expert, Ancy Lewis of Sleeping Little Dreamers, provides a hopeful message to parents. "Children will change their behavior once parents provide structure and appropriate limits. Children can fall asleep without a fight."
In the hustle and bustle of a busy family life, parents would like to avoid long drawn out bedtimes. The main problem is that parents don't know what the ingredients are to make this happen. By consulting with a Gentle Sleep Coach, parents can learn the right tools for bringing peaceful, well-rested nights back into their home.
Ancy Lewis reveals some of the tools that can lead to successful bedtimes and prevent bedtime battles. Here is a preview of the tips she has revealed:
1. Put your child to bed at the appropriate bedtime:
We all have a "sleep window" that is set by our internal body clock. This sleep window is the most opportune time for us to fall asleep. When you put your child to bed after this window, he or she gets an increase in cortisol (the stress hormone). This makes it harder for your child to settle down and fall asleep. That shot of cortisol also provides a second wind giving your child plenty of ammunition to battle with you when bedtime comes around. Individual needs vary, but an appropriate bedtime for most children lies between 7 – 8 pm until about the age of 5.
2. Keep a bedtime routine short and sweet:
Bedtime routines are soothing and provide that last bit of connection with parents before lights out. Children often want to stretch the routine out to keep you with them longer. Keep the routine simple and concise with low stimulation, and keep it targeted toward your child's interest. Remember the four B's at bedtime: bath, brush, books, and bed might suffice for most kids. Some families incorporate songs and prayers. Whatever your family prefers, avoid keeping it long. Multiple books, or many routine steps before bedtime can make the child more stimulated. Keep it short and sweet.
You can find all five tips to end "Dread Time" on Ancy's blog: http://www.sleepinglittledreamers.com/blog
About Sleeping Little Dreamers:
Sleeping Little Dreamers is devoted to providing Sleep Coaching services to parents of children ages 6 months to 6 years with sleep issues. Owned by a social worker, Sleeping Little Dreamers offers individualized sleep consultations that address the needs, values and parenting philosophies of each family. Sleep consultations can be done by phone with parents all over the world, or in person for those in the Westchester County, NY area. With the collaboration and support of Sleeping Little Dreamers, parents have either experienced vast improvements in their child's sleep or a complete resolution of sleep issues. For more information, please visit http://www.sleepinglittledreamers.com.