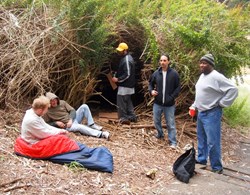 As inequality increases so does the suicide rate because of the economic devastation for many.
San Francisco, CA (PRWEB) January 24, 2014
Today, with over 50 million living in poverty and a widening gap between rich and poor, the producers of the first of the Suicide Party trilogy of films: The Suicide Party: Project O plan to give 5% of the film's proceeds to organizations that are seeking to reduce inequality or help suicidal individuals choose a different path. The producers are now on a search to select two or three organizations that deal with each issue to receive its contributions.
The producers have decided to make this contribution, since the film is designed to address these issues with a film about a once successful man who has sunk into poverty. Then, he is threatened with eviction in 30 days, can't find a job or borrow money from the bank or from friends who are similarly struggling. So he decides to put on a suicide party with his friend's help. If he raises enough to save his house and get back on his feet, he'll live; if not, he'll quietly end it all, triggering a media frenzy and unexpected twists and turns in his journey
These issues of inequality and suicide have touched such a nerve that three directors of award winning film projects will be creating three different versions of the story – a found footage approach, as in The Blair Witch Project and Paranormal Activity, a dark comedy, and a documentary style film. Together these films will create a unique trilogy to play separately or together in a series of national programs and discussions about the two issues. Investors all over the country – from Arkansas to San Francisco and L.A. – have contributed to the project's low under $50,000 budget. Distribution is now being set up for a fall release. Others who wish to contribute can participate through its crowdfunding campaign on GoFundMe at http://www.gofundme.com/suicide-party.
The first of the Suicide Party films, The Suicide Party: Project O is being directed by Jack Skyyler of Dear Skyyler Productions, with the lead actors Glynn Praesel and Tom Malloy. Together they have made over 30 feature films. The director has also set up a site for investors at http://www.dearskyyler.com/suicideparty/investment.html.
The organizer of this campaign and the writer/producer of Suicide Party is Gini Graham Scott, the founder of Changemakers Publishing and Writing. She is the author of over 50 published books with major companies and 30 books published by Changemakers Publishing, her own publishing company. She also writes books and scripts for clients. She has spoken about the topics of her books to many groups and the media, including appearances on Good Morning America, Oprah, and CNN. She has a PhD in Sociology from U.C. Berkeley, a JD from USF Law School, and 4 MAs in Anthropology, Mass Communications, and other subjects at Cal State, East Bay. She is pursuing a fifth MA there in Communications.