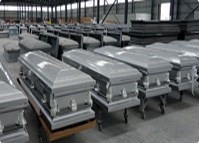 (PRWEB) January 24, 2014
Recently, MillionaireCasket.com, a leading company in the field of caskets and related accessories, held a seminar on how to improve its products and services in 2014. There was a total of 21 business partners and companies that attended the seminar.
MillionaireCasket.com is a China-based casket manufacturer; the company has over 10 years of experience in the industry. It has become one of the leading suppliers in caskets in China. The core products offered by the company include metal caskets and wood caskets. Other than this, custom caskets are also supplied here at MillionaireCasket.com.
At the seminar, the CEO of MillionaireCasket.com also introduced its experience to the companies at the seminar. The people at the seminar discussed how to distinguish the casket quality by explaining different production defects. MillionaireCasket.com wants to help its clients and distributors around the world to find the best caskets at affordable prices.
MillionaireCasket.com' products are very popular on the market; the company is definitely a good choice for many casket distributors around the world. Custom designs and products are accepted by the company as well. All products are made according to the desired specifications and quality.
About MillionaireCasket.com
MillionaireCasket.com is a leading casket company based in China. It focuses on the business of casket wholesale. It offers an exquisitely crafted line of all kinds of metal caskets, solid oak caskets, veneer caskets, cremation caskets, rental caskets, orthodox caskets, infant or over-sized caskets and European style coffins. For more detailed information, readers can visit: http://www.millionairecasket.com/.