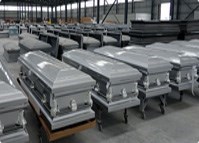 (PRWEB) January 28, 2014
Recently, MillionaireCasket.com announced its new metal caskets for 2014. In the next few weeks, MillionaireCasket.com will expand its production line and produce more models of metal caskets for the global market.
The CEO of MillionaireCasket.com, said, "We have built up a great relationship with many caskets distributors all over the world. Some of our models come with independent intellectual property rights."
All the new items from MillionaireCasket.com are in line with the comprehensive ISO9001-2000 compliance quality control program. That enables the company to supply good caskets for worldwide clients. The products can be made based on customers' requirements, and the company welcomes OEM or ODM orders from its customers.
The CEO said, "Many casket customers are first-time casket buyers, and we have published a series of guides that can help customers save $1000 on a normal casket. We have the best product line in the industry. We have a money back guarantee as well, and this policy can provide our customers with a great way of buying any of our amazing products."
About MillionaireCasket.com
MillionaireCasket.com is a leading casket company based in China. It focuses on the business of casket wholesale. It offers an exquisitely crafted line of all kinds of metal caskets, solid oak caskets, veneer caskets, cremation caskets, rental caskets, orthodox caskets, infant or over-sized caskets and European style coffins. For more detailed information, readers can visit: http://www.millionairecasket.com/.