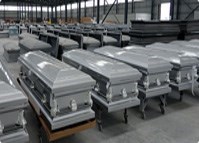 (PRWEB) January 31, 2014
MillionaireCasket.com understands the casket needs of various people and strives to provide the right products for them. Recently, the company has released several new designs of metal caskets and announces a special offer on all metal caskets.
According to a marketing manager of the company, all casket customers can get a discount up to 31% off during the month of February 2014. The company hopes more people can get know their brand through the promotion. The company believes that good caskets at affordable prices can attract many new clients.
The company is a great choice for many casket distributors around the world. Thanks to a lower average price on every casket, the company achieved fast growth in 2013. However, low prices don't always mean low quality. All the products from MillionaireCasket.com are made under the rules of ISO9001-2000 quality control program.
The newly released metal caskets come in 16, 18, or 20 gauge metal. What's more, MillionaireCasket.com offers OEM services. The caskets are treated with chemicals, so they will not corrode or rust.
MillionaireCasket.com has a team of 100 engineers and consultants serving clients in the industry. The CEO of the company promises that they will support the growth and development of all funeral services including metal caskets, wood caskets and more.
About MillionaireCasket.com
MillionaireCasket.com is a leading casket company based in China. It focuses on the business of casket wholesale. It offers an exquisitely crafted line of all kinds of metal caskets, solid wood caskets, veneer caskets, cremation caskets, rental caskets, orthodox caskets, infant or over-sized caskets and European style coffins.
For more detailed information, readers can visit: http://www.millionairecasket.com/.