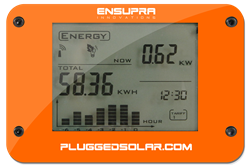 Great Product!! Works as described right out of the box and starts saving-making $$ as soon as you plug your system in… Simple and easy instructions and plenty of support for those questions the home owner might have. - Pat D., New York
Houston, Texas (PRWEB) January 24, 2014
Ensupra Solar, an American company, is excited to announce addition of wireless electric monitor in the Plugged Solar Kit. This new addition to their PluggedSolar is offered free for the limited time. PluggedSolar is an affordable, do-it-yourself solar kit which, through EnsupraSolar's innovative and exclusive technology is able to plug directly into any standard electrical socket.
The key difference between PluggedSolar's technology and traditional solar power technology is the output voltage. Traditional solar installations produce a 240V AC, which requires a licensed electrician to make the connection. In contrast, PluggedSolar has an output voltage of 120V alternating current (AC) making the system plug-and-play like most other home appliances, saving homeowners both time and money on installation.
For a limited time only, Ensupra Solar is offering a free Wireless Energy Monitor with the purchase of the PluggedSolar product. This electrical power monitoring system works for both residential and commercial solar power systems. The Ensupra Wireless Energy Monitor clearly shows how much solar power is being generated by a solar system.
A solar power monitoring system is an excellent way to deepen your connection with the solar power investment. Research has also shown that monitoring solar generation helps to boost awareness of energy efficiency, achieving more efficient energy usage patterns in households and businesses - translating to even greater savings.
ABOUT ENSUPRA SOLAR
Ensupra Solar Llc is a USA based multinational solar power corporation that focuses on appropriate innovative renewable energy products with an aim to solve energy and environment issues of the world.
Its major product, PluggedSolar,™ is a DIY kit that typically installs in one day. It plugs into the regular wall socket as one plugs any appliance. The DIY kit is pre-configured and pre-wired system that reduces the cost of solar, making the installation simple, saving the homeowners more than half of the typical solar installation cost.