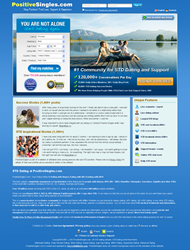 Los Angeles (PRWEB) January 25, 2014
PositiveSingles.com, the top-rated dating and support website for people who are suffering from sexually transmitted diseases, are releasing the results of the "Hot Topic" for December 2013. This discussion centered on herpes simplex virus, (HSV or herpes) one of the most common forms of STDs, and the food that people who have this disease should avoid eating.
A total of 1,296 members of PositiveSingles.com participated in December's Hot Topic, offering helpful healthy eating tips and personal experience with food that people with HSV should avoid eating. Most members agreed that people with HSV should avoid food that contain high levels of arginine, which is a natural amino acid. Foods that contain high levels of arginine can cause herpes outbreaks and can increase the pain and discomfort during an outbreak.
According to data found on PositiveSingles, and testimony offered by 42.17 percent of its members that participated in the poll, foods that are high in arginine include peanuts and peanut butter. Unfortunately, this food is one that is commonly found in the average U.S. household, but is one that people with herpes should avoid. "It really causes pain," said one anonymous herpes member, who really enjoys peanut butter. One 144 mg peanut contains 1450 lysine and 5050gm arginine. The arginine is four times greater than the lysine. Nuts contain the highest amount of arginine than any other food. People who are afflicted with herpes should avoid food with high levels of arginine, especially peanuts and products made with peanuts.
Although peanuts were the most commonly mentioned food, there were other foods that members said cause them to experience outbreaks of herpes. A total of 15.29 percent of the members mentioned chocolate to be a source of outbreak, 12.32 percent voted for eggs as a problem food and 14.77 percent said corn can cause problems for herpes outbreaks. These foods have about the same amount of lysine as they do arginine, making them a "moderate food item." Even a moderate food item can cause a herpes outbreak if the person eats too much of it.