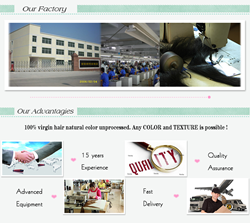 (PRWEB) January 29, 2014
EQhair.net, the world leader in hair extensions, has recently released its deep wave Malaysian virgin hair wefts for its customers worldwide. As a well-known brand in the industry, the company has a great customer base for its fashionable designs of hair extensions.
The deep wave Malaysian virgin hair wefts are made of 100% natural human hair. All of them have a gorgeous look, and they are extremely light in weight. These products have been reviewed by many customers as top-rated hair extensions on the market.
"We are excited to offer our new hair wefts to our customers as a way to expand our brand's influence in the global market. The technology we used to make these products is compatible with future improvements in hair materials and is designed to maintain the hair extensions at a consistently low cost," the top designer of EQhair.net says.
"I decided to be a reseller of EQhair.net because the company is a reliable manufacturer. They have their own factory in China, and they have a team of talented designers, who can always provide our customers innovative and trendy hair wefts and extensions at affordable prices. We are happy to share our experiences with our customers," says a hair extension retailer from Berlin.
Furthermore, the company provides an extra discount of 20% off when ladies follow EQhair.net on Twitter or like it on Facebook, Google+ or LinkedIn. The company hopes to expand its global influence through SNS. The company hopes to make more people experience its top quality virgin hair wefts.
About EQhair
EQhair is a leading hair extension wholesaler and retailer. With over 15 years of experience in the industry, EQhair offers a wide range of fashionable hair products at reasonable prices. EQhair is devoted to providing high quality hair extensions for the ladies worldwide, and it welcomes any request and review from customers worldwide.
More Details at http://www.eqhair.net/.