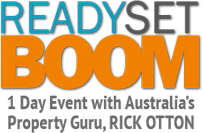 The systems and methods I teach can be repeated over and over again. And many of my students are able to do two or more deals each month using seller finance. With that kind of efficiency, they are able to boost their ROI in ways they could never imagine
(PRWEB) January 26, 2014
Real estate investors in Townsville are lining up to buy serviced hotel apartments, because of guaranteed returns ranging from $25,000 to $27,000 annually, (Townsvillebulletin.com.au reported on 18 January 2014)
The report, however, cited the down side of having serviced hotel apartments as property investment. Aside from not being to live in the apartment, property investors can only borrow 70-75 per cent home loans for these kinds of properties, it revealed.
"Cash-rich investors are the only ones that could take advantage of this situation, while 'everyday mums and dads' who want to try their hand in property investing get left out on such opportunities," said Mr. Otton, a renowned property coach with 14 years of experience in educating people about real estate Australia.
"This doesn't mean, however, that regular folks with little capital can't get into the action. With a little creativity, it's possible to use seller finance in order to invest in property without taking out a new bank loan or obtaining a large deposit," the property mentor added.
In an interview for his latest national tour Ready, Set, Boom, Mr. Otton shared the success story of his students Anthony and Christine with the help of creative strategies.
"What they did was bring together a seller, who recently lost her job and was unable to pay her mortgages, and a buyer, who was having a hard time getting bank approval for a new home loan. They put together a deal which helped the seller get rid of her mortgage obligations, while the buyer secured real estate for his family. The best part about it was that Anthony and Christine earned $40,000 with just 1 transaction," he recalled.
"The systems and methods I teach can be repeated over and over again. And many of my students are able to do two or more deals each month using seller finance. So with that kind of efficiency, they are able to boost their ROI in ways they could never imagine. And these are the very same methods we'll be going through during the my brand new National Tour," Mr. Otton Added.
Visit http://readysetboom.com.au/ for more info on Rick Otton's live, one-day seminar in Townsville on 18 February 2014.
About Rick Otton
For over 23 years property millionaire Rick Otton has built an impressive real estate portfolio using innovative strategies that he has developed – strategies in which transactions are made without the need for traditional bank-type loans.
He constantly refines his techniques as he buys and sells properties through his We Buy Houses business which operates in Australia, New Zealand and the UK.
A gifted speaker and educator, Mr Otton conducts regular one-day free seminars across Australia, which build on the the concepts he shares in his 2012 book 'How To Buy A House For A Dollar', voted by Money Magazine and Dymocks Book stores as one of the Top 10 Most Popular Finance Titles for 2013.
He regularly records and publishes iTunes podcasts via his channel Creative Real Estate.
His innovative low-risk, high-reward approach to Australian real estate investing has been featured in a variety of television programs and magazines, including Today Tonight, Hot Property and Australian Property Investor.
To register for one of Mr Otton's free Australian one day seminars visit ReadySetBoom.com.au or phone, in Australia, 1300 888 450.