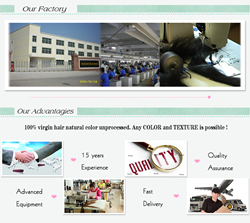 (PRWEB) January 30, 2014
The global hair extension market is growing and EQhair.net is gaining more and more attraction from the ladies worldwide. Recently, the company has announced its deep wave Brazilian virgin hair extensions, and received many positive customer reviews for these products.
EQhair.net is a reliable manufacturer, wholesaler and retailer of hair weaves. All its hair wefts are easy-to-use products. They are made with I00% virgin hair and offered in various lengths (8, 10, 12, … 28 inches). They are available in many different styles (straight, wave or curl) as well. To learn more about EQhair.net, please contact the office by phone or visit its website.
"I knew this website from my friend, and I bought a deep wave Brazilian virgin hair extension. It arrived amazingly quickly! I absolutely love the color (dark green to light green) and was amazed at how well it was for the price I paid. Thank you!" A lady from the UK states.
Another customer from the USA says, "It is such a wonderful product: very comfortable, very nice. I just love it and will definitely recommend it to my friends. I am one of the loyal fans of this website, and I can always find their discount coupons from their Facebook."
EQhair promises to offer high quality hair extensions for the ladies worldwide, and it welcomes any request and review from customers worldwide. The company grows its global reach with high quality hair extensions and customer-first service as well as custom designs that help ladies save money without sacrificing quality.
About EQhair
EQhair is a leading hair extension wholesaler and retailer. With over 15 years of experience in the industry, EQhair offers a wide range of fashionable hair products at reasonable prices. Its products are available in 14 shades (from the lightest blondes to the darkest black). More details at http://www.eqhair.net/.