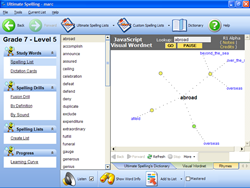 Younger spellers can easily use the software and improve their spelling efficiency through a wide range of games and spelling activities.
New York City, NY (PRWEB) January 27, 2014
Ultimate Spelling™, one of the e-learning products developed by eReflect, has been reviewed by the homeschooling mother and teacher Amy Maze. This review of Ultimate Spelling™ assesses the software thoroughly, looking at its features and examining its ability to help students improve their spelling efficiency.
The spelling software review just released points out that part of the success of this software is due to the fact that the comprehensive, dictionary-like word database (over 140,000 words) forms the basis for all activities, games, and exercises. The sheer size of the word database in Ultimate Spelling™ ensures that users, whether beginners or advanced, will have plenty of material to draw from and create their own spelling word lists so as to further improve their spelling skills.
The review emphasizes the user-friendliness of the software, reporting that its video tutorials and its clear instructions make first-time practice with the software easy and enjoyable. Ms. Maze highlights the fact that Ultimate Spelling™ is so easy to use that no tutor, parent, or any other supervisor is necessary even when younger students practice with it. Younger spellers can easily use the software and improve their spelling efficiency through a wide range of games and spelling activities. The review also remarks that eReflect's spelling improvement software offers an inclusive learning experience for the user as it doesn't solely focus on a word's orthography but offers in-depth knowledge for each word, allowing the student to also learn its meaning, its synonyms, and much more.
Another feature of the software Ms. Maze writes about is the integrated progress tracking technology that is a hallmark of Ultimate Spelling™. The software allows the user to monitor their learning by looking at easy-to-understand graphs that chart their spelling efficiency progress. As the review notes, this is especially useful for homeschooling parents, who only need to look at the charts to be able to supervise their child's spelling studies.
The review emphasizes the appropriateness of the spelling software for learners of all ages and professions thanks to its ability to be easily integrated in various learning environments, from homeschooling 3rd graders to senior students preparing for university.
For more information about how Ultimate Spelling software can improve spelling performance for you and your family, please visit the official website at http://www.ultimatespelling.com.
About Ultimate Spelling™
Ultimate Spelling provides a modern and easy to use spelling software that has been designed with one goal in mind – making children want to learn.
It is a fast and easy way to master even the most complicated spelling, without the need to write long lists or complete boring tests.
In fact, Ultimate Spelling provides more than just spelling help. It is a complete educational resource that boosts all level of a child's literacy.
Containing a personal computer tutor, Ultimate Spelling is the most realistic step-by-step guide to flawless spelling ability.