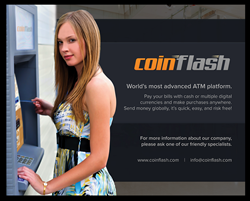 The Coinflash ATM enables users to buy and sell bitcoin for cash.
Miami Beach, Florida (PRWEB) January 24, 2014
This weekend, the Coinflash team will be attending the North American Bitcoin Conference in Miami Beach, Florida, giving attendees a sneak preview of the new Coinflash Bitcoin ATM. Coinflash is a San Francisco-based startup that plans on deploying 1000 ATMs worldwide by 2015. Team members will be conducting live demonstrations of the advanced functionality of the machine, which is based on the OpenWallet kiosk platform. The Coinflash ATM enables Coinbase and Ripple users to buy and sell bitcoins for cash, and even pay bills, transfer funds, and purchase gift cards with cash or digital currency.
To kick off the conference, Coinflash is co-hosting a party with eSpend, Dollero, and Triple Zero Media on Friday night on the rooftop of the Clevelander hotel in Miami Beach. Coordinated by globally recognized General Manager Jeff Turgeau, the party will feature multiple full premium bars, a live DJ spinning Miami House music, passed hors d'oeuvre provided by Essex, and a few exciting surprises for party attendees.
The North American Bitcoin Conference is being produced by Moe Levin of Triple Zero Media. Miami Beach Chamber of Commerce President and CEO Jerry Libbin, who was instrumental in bringing this conference to Miami Beach, will be attending the kick off party and the conference, showing his and the Chambers' support for Bitcoin businesses and welcoming the Bitcoin community with open arms. The sold out conference will be host to over 25 speakers and 19 exhibitors, including leading Bitcoin businesses such as Bitpay, Blockchain.info, ZipZap, and Kraken.
For more information about Coinflash, contact Coinflash CEO Carl Hilsz at info(at)coinflash(dot)com.
Contact: Carl Hilsz
Email: info(at)coinflash.com
Website: http://www.coinflash.com