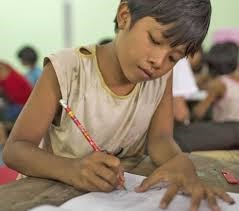 It is amazing that we have been able to raise so much money for such a worthy cause; when tragedy strikes unexpectedly with such devastating effect on people's lives it is reassuring that there is such an abundance of human kindness and generosity from DL
London, UK (PRWEB UK) 24 January 2014
In an ever-ongoing commitment to important charitable causes, Duncan Lewis Solicitors raised an impressive total of £966.86 for the Unicef Philippines Appeal.
The amount consisted of a collection of £466.86 made up of donations from the firm's various teams across the country, and a £500 donation from the firm's own charity committee.
The Unicef Philippines Appeal works relentlessly to help rebuild the lives of families and children following the catastrophic Typhoon Haiyan. Unicef is still on the grounds in the Philippines providing essentials and care that are urgent to the rebuilding the lives of those severely affected by Typhoon Haiyan.
As well as the committee's donation to Unicef's Philippines Appeal, also selected was the donations for the areas of crime for the firm's December nomination and housing for the January nomination.
For the crime donation, the Duncan Lewis Charity Committee chose for the donation to go to The St Giles Trust; a Dalston based charity which supports the rehabilitation of ex-offenders.
For the housing donation, the charity good4you was selected, a charity that support disabled homeless people in London. good4you consists of trustees that understand with empathy the cause they are helping, as all the trustees themselves were in the same situation as those that they help in the community.
Duncan Lewis child care solicitor and Charity Committee Chair Laila Bhunnoo added;
"It is amazing that we have been able to raise so much money for such a worthy cause; when tragedy strikes unexpectedly with such devastating effect on people's lives it is reassuring that there is such an abundance of human kindness and generosity from DL."
About Duncan Lewis
Duncan Lewis, established in 1998, is the largest civil legal aid practice in the UK and one of the country's fastest growing firms of solicitors, serving both corporate entities and private individuals from offices across London and throughout the UK. A recommended leading law firm by Law Society Lexcel, Legal 500; Duncan Lewis employs over 500 members of staff and was the first law firm to achieve the Investors in People Gold Quality Standard Mark in 2009. Representing over 25,000 clients per year, the company has an excellent reputation in the Administrative Court, High Court and Court of Appeal in the Immigration, Public law and Family/Child Care jurisdictions.
Established areas of law are: business immigration, child care, civil liberties, clinical negligence, community care, crime and fraud, dispute resolution, debt and insolvency, employment, family and divorce, housing, asylum and immigration, litigation, mental health, personal injury, prison law, professional negligence, public law and administrative law, regulatory matters and welfare benefits.