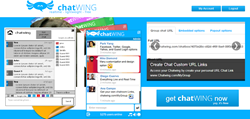 Dallas, TX (PRWEB) January 26, 2014
To deal with the large rate of queries and online concerns, Chatwing Development Team has decided to open up a new support line. This support line will appear in the form of a new chat room software wherein customers can leave out their messages and questions. Once the lounge has become active, it will also be linked to one of Chatwing's support podcasts.
Chatwing website chat app has been reaching out to different communities, especially from Wordpress, Xanga, and Blogspot. Recently, the company even reached out to Facebook groups and pages. Activity in Twitter also became continuous, since there are hundreds of informational tweets appearing every now and then. Throughout these initiatives, Chatwing developers encountered many questions from registered users.
While most of the questions can be answered in Chatwing's FAQ, developers believe that it is imperative to create a highly-functioning support line or simply, support chatroom. Apart from handling the concerns of the visitors, Chatwing Team is planning to share helpful web content, such as tutorials, web news, financial scoop, importance of widgets, and many more. It is still tentative if Chatwing Team will hire additional moderators to take care of the support line.
It is also expected that web users will have more concerns regarding Chatwing's chat box premium services. One of the reasons pointed out is that users are looking for ways on how to gain better online chat leverage. Further information about Chatwing's chat software new support lounge will be made available in Facebook and Twitter.
About Chatwing.com
Chatwing.com is a company that has brought innovation to the modern chat widget. Operating for more than five years now, Chatwing and its team of developers have dozens of ideas ready to be introduced to the public. The Chatwing chat app is an easy-to-use online tool that can help web users interact with each other and can also generate continuous traffic. Chatwing will always be a "freemium" application for everyone.