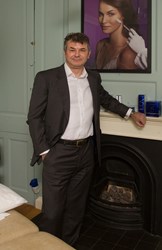 Depending on the area to be treated anything from one up to several sessions may be required, and these are spaced 3 – 4 weeks apart.
Northampton (PRWEB UK) 27 January 2014
Mulberry House Clinic & Laser Centre based in Hardingstone, nr Northampton, enjoys an excellent local and national reputation for its extensive range of cosmetic, medical and laser treatments for the face and body.
Now it is extending its range of treatments with the addition of innovative Aqualyx fat reduction injections, which offer localised contouring of unwanted areas of fat for a more streamlined profile.
Aqualyx is a water-based solution containing plant polymers which bind with the cell walls of the fat tissue before rupturing and releasing the fat to be dissolved. Targeting stubborn pockets of localised fat the injections work beneath the skin to break down fatty deposits to create a leaner silhouette.
This is not an alternative to good diet and exercise and should be considered a body shaping procedure rather than weight loss. However, it offers hope for those patients who struggle with 'trouble-spots' which seem resistant to their best efforts; such as under the chin, on the upper arms or "bingo wings", the tummy or abdominal area, "love handles", hips or inner thighs.
Experienced skin treatments physician, Dr. John Tanqueray MB BCh MRCGP DCH DRCOG DipOccMed BCAM, explains:
"Compared to treatment that we have used in the past we are finding that Aqualyx is much more comfortable both at the time and afterwards, with only minor discomfort being reported so far."
"Depending on the area to be treated anything from one up to several sessions may be required, and these are spaced 3 – 4 weeks apart."
Unsurprisingly, there has been a surge in interest in the injections for January, as patients seek help to reduce the post-Christmas bulge.
This new launch is just the latest innovation for Mulberry House Clinic. In 2013, they launched LED skin therapy, an injection-free treatment for a wide range of skin conditions including rosacea, psoriasis, acne and eczema as well as anti-ageing treatment. Before that, they added no-needle fillers – a revolutionary way of administering popular dermal fillers for a comfortable experience and a soft, gentle look.
The company continually invests in new technology and treatments for its patients, working closely with top manufacturers and industry bodies in the UK and worldwide, to ensure that their patients have access to a wide choice of treatments for optimum results. The clinic offers laser skin rejuvenation as well as radiofrequency, PRP (platelet rich plasma) and plasma energy skin regeneration treatment for advanced skin therapies. Popular laser hair removal is also available.
With 10 years in the industry, the clinic has built up a loyal following of patients who visit the team for regular skin treatments for a range of conditions. They provide a comprehensive range of professional skin treatments, with injectable anti-ageing injections and facial fillers administered by clinic founder and owner, Dr. John Tanqueray.
The company remains independent and doctor-managed with its patients' best interests placed firmly at the heart of the business.