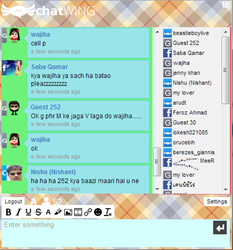 San Diego, CA (PRWEB) January 28, 2014
A new dating site chat box is being offered by Chatwing Development Team. This chatroom tool is different from the company's previous dating apps because it is heavily integrated with social media functions. Additionally, the chat box is laced with romantic designs and visuals. Users can expect the following advantages offered by Chatwing's chat room software newest dating site tool:

Facebook and Twitter connectivity. Based on professional research, Facebook and Twitter are the most popular social networks today. Everyday, millions of users are exchanging comments and sentiments in Facebook. Twitter, on the other hand, is a known place for tweets and upcoming niche trends. Since the Chatwing chat app allows Facebook and Twitter login methods, dating site visitors can communicate to each other effectively.
Better web traffic. Dating site owners can rely on the web traffic provided by Chatwing chatbox. Once installed, the widget will generate traffic. It acts like an online lounge that welcomes all visitors. This is a proper and easy way for visitors to know each other.
Visibility. If the dating site offers a range of products and services, the Chatwing tool is a reliable widget to use. It can increase visibility by more than 50%. The percentage may vary according to the online dating site. Moreover, site owners can rely on Chatwing's array of premium services to create better chat experiences.
More improvements will be introduced by the Chatwing chat software to the dating chat box. Additionally, the team will also create more romantic background themes and designs.
About Chatwing.com
Chatwing.com is a company that has brought innovation to the modern chat widget. Operating for more than five years now, Chatwing and its team of developers have dozens of ideas ready to be introduced to the public. The Chatwing chat app is an easy-to-use online tool that can help web users interact with each other and can also generate continuous traffic. Chatwing will always be a "freemium" application for everyone.