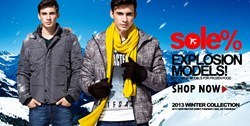 (PRWEB) January 31, 2014
Recently, Skmen.com, the well-known clothing manufacturer and retailer, has released its new collection of men's suits. Included in the new range are various kinds of fashionable items. According to the CEO of the company, all these items are now offered at discounted rates, up to 56% off. All clients that order its men's suits online can access the discounts before February 19, 2014.
As a matter of fact, Skmen.com is considered as one of the best suppliers in the international market. It is famous for its high quality products and great customer service. The company has been working in the industry for several years. Its hot items include long sleeve shirts, leather jackets, outerwear jackets, party dresses, wedding dresses, evening dresses and so on.
At the moment, the company is providing big saving on many hot designs. All its clothes are featured with fashionable looks and fine craftsmanship. The brand new men's suit collection is no exception. Its excellent clothes are sold in many countries; a large number of them have been well appreciated by their wearers.
The company has a great variety of top quality products in stock and ready to ship. Its top designers are always making every effort to create the most fashionable items for worldwide clients.
About Skmen.com
Skmen.com, a China-based company founded in 2009, is one of the leading suppliers of men's and women's high quality clothes. It has more than 5000 customers from every part of the world; it hopes to help worldwide stylish ladies and gentlemen. For more detailed information about the company and its wonderful items, readers can visit http://www.skmen.com/product-men-s-suits-009009.aspx.