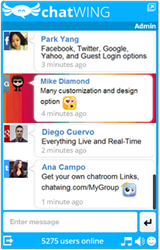 San Francisco, CA (PRWEB) February 01, 2014
To strengthen its foothold in Facebook, selected Chatwing developers have created focus groups. The main goal of these groups is to study the growth of Facebook trends and learn more information about consumers. The secondary goal is to find users who are heavily reliant on web chat apps and fully-functioning blogs. Here are the initial focus groups created:

Technology and gadgets. Since technology is an evergreen niche, Chatwing developers believe that it is a good sector to start with. Chatwing chat room software aims to analyse the continuous growth of the technology niche, including the appearance of new gadgets. Apart from that, the overall psyche of gadget buyers can be taken as an important factor.
Web development and blogging. Web development is another topic that will never falter in the cyberspace. One factor that supports this statement is the growing need for web developers. Based on Chatwing's chat app research, companies are always looking for developers to monitor their applications. Blogging, on the other hand, is also important since millions of bloggers are already registered in different sites.
Widget needs. Chatwing Team is also prepared to monitor the growing need for widgets and website apps. With more websites being created on a day to day basis, the demand for widgets has also risen. By creating focus groups in the area of widgets, Chatwing chat software will learn more about the competition and will be able to create better features.
Chatwing will create more focus groups once the first batch reached the main objectives. For tutorials on how to install the Chatwing chatroom, web users can visit the company's main website.
About Chatwing.com
Chatwing.com is a company that has brought innovation to the modern chat widget. Operating for more than five years now, Chatwing and its team of developers have dozens of ideas ready to be introduced to the public. The Chatwing chat app is an easy-to-use online tool that can help web users interact with each other and can also generate continuous traffic. Chatwing will always be a "freemium" application for everyone.