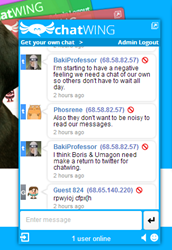 San Francisco, CA (PRWEB) February 02, 2014
Chatwing Team has been improving lots of widget features in the past year. This 2014, the team is currently improving the widget's MP3 upload feature. With this improvement, chatroom users can upload MP3 links with relative ease. This can help the overall success of FM streaming sites and podcast sites.
Chatwing's MP3 feature can be accessed in the main dashboard. After registering, the user can check out the customization functions. Uploading an MP3 link is easy; the user just needs to paste the valid link to the proper section in the dashboard. Once saved, the chatroom will play that music indefinitely.
The MP3 feature was added a year ago. It is one of the most useful but less popular of Chatwing's chat app features. This year, the developers are planning to put greater emphasis on the MP3 feature. Chatwing Team believes that a relaxing MP3 file can soothe the ambiance of the chatroom, thus boosting client visitor return rate. This can help any website in gathering continuous traffic.
The benefits for FM streaming sites are also imminent. Aside from web traffic, the site owners can upload the hottest music or the most popular request in the chat room software. With requests satisfied, more visitors will check out the site. In the future, Chatwing developers are planning to change the feature into a 'direct file upload' system. This is a major change since the developers have to overhaul the platform.
Updates about the enhanced MP3 feature will be posted in Twitter. Users can also check out Chatwing's chat software main Facebook page.
About Chatwing.com
Chatwing.com is a company that has brought innovation to the modern chat widget. Operating for more than five years now, Chatwing and its team of developers have dozens of ideas ready to be introduced to the public. The Chatwing chat app is an easy-to-use online tool that can help web users interact with each other and can also generate continuous traffic. Chatwing will always be a "freemium" application for everyone.