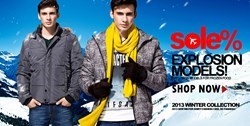 (PRWEB) February 02, 2014
The men's wool cardigan sweaters offered by Skmen.com are popular for their handsome looks, comfortable materials and affordable prices. Recently, the company has announced its new cardigan sweater selection for worldwide clients. What's more, the company has launched a special offer on these trendy clothes.
True enough, the company is making every effort to ensure customer satisfaction. As part of its comprehensive clothing solution, Skmen.com has arranged a large number of qualified staff to work at its online shop. They are ready to answer any related questions around the clock.
"We are very excited to launch the special offer to benefit worldwide clients. Before creating the new collection, our top designers spent several weeks collecting information, communicating with frequent callers and interviewing industry leaders. All these brand new wool cardigan sweaters are made according to the latest fashion trends. And in my opinion, they will certainly meet the needs and requirement of the diverse clients," the CEO of the company says.
Then he adds, "In addition, we encourage all new and old clients to keep an eye on our homepage; we often launch special offers at our online shop. Please note that the promotion is valid until February 24. If you are interested in our discounted products, please visit our website as soon as possible."
About Skmen.com
Skmen.com, a China-based company founded in 2009, is one of the leading suppliers of men's and women's high quality clothes. It has more than 5000 customers from every part of the world; it hopes to help worldwide stylish ladies and gentlemen. For more detailed information about the company and its wonderful items, readers can visit http://www.skmen.com/product-cardigans-sweaters-009004.aspx.