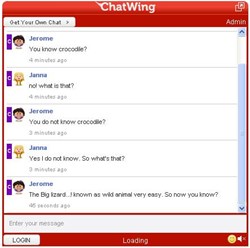 Dallas, TX (PRWEB) February 03, 2014
Event organizers who want to spread more information in the cyberspace can now use the leverage offered by Chatwing's newest chat box. The chat app, dubbed as Live Chatroom 3.5, is an advanced widget filled with useful features. It is also user-friendly, innovative, and dynamic.
"Communication in the Chatwing widget is done in real-time," says Mike Diamond. He is a developer and strategist for the Chatwing Team. "Everything happens instantly and everyone can get results right away. We always see people posting video links and photos—active marketing efforts. Since each Chatwing tool is capable of handling thousands of users, the exposure of the product or service is high. We received positive feedbacks from bloggers who had 40-70% increase in their traffic rates."
Another purpose of the Chatwing chat software tool is inquiry system. Event creators can use the application to help participants in gathering more data. By leaving helpful and straightforward messages in the chatbox, the organizers can deal with event confusions and questions. This will fix possible problems which can occur in the event. Location directions can also be posted in the chatroom so participants will never get lost.
Chatwing's live chatbox has been used in different purposes because of its reliability and adaptability. Every registered user has the advantage of creating unlimited chatrooms and assigning moderators. Customization is also a strong factor, and there are more than ten ways to modify a single chatroom. Basically, Chatwing chat room software developers believe that 'imagination has no limits'.
Chatroom tutorials are available in Chatwing's Facebook page. Additionally, event organizers and web users can also look for Chatwing chat app news in Twitter.
About Chatwing.com
Chatwing.com is a company that has brought innovation to the modern chat widget. Operating for more than five years now, Chatwing and its team of developers have dozens of ideas ready to be introduced to the public. The Chatwing chat app is an easy-to-use online tool that can help web users interact with each other and can also generate continuous traffic. Chatwing will always be a "freemium" application for everyone.