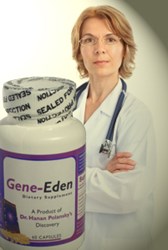 We recommend that parents ask their child's pediatrician about taking Gene-Eden-VIR. This natural Herpes remedy was proven to reduce symptoms of a HSV-1 infection in a post-marketing clinical study. – Mike Evans, polyDNA
Rochester, NY (PRWEB) January 30, 2014
Parents should be aware that Oral Herpes outbreaks can be extremely painful for their child. Moreover, these are not single occurrences. They can happen again and again over an extended period of time with each lasting about a week. These outbreaks can be so bad that they can keep some children from school due to their severity (1). Parents of these children may become concerned by their child's refusal to eat or drink. However, "Recurrent mouth ulceration is common, (and is) said to occur in between 1% and 10% of children. Most troublesome is usually the associated pain, such that oral intake may be so reduced that the child becomes dehydrated (1)." polyDNA recommends that parents consider Gene-Eden-VIR to help their child's immune system target the latent Herpes virus. This natural product was clinically proven to reduce Herpes symptoms in a study that followed FDA guidelines.
"Most cases of Herpes Simplex recur. The site on the body and the type of virus influence how often it comes back. The virus usually takes the following course… The outbreak of infection is often preceded by a prodrome, an early group of symptoms that may include itching skin, pain, or an abnormal tingling sensation at the site of infection. The patient may also have a headache, enlarged lymph glands, and flu-like symptoms. The prodrome, which may last as short as 2 hours or as long as 2 days, stops when the blisters develop. About 25% of the time, recurrence does not go beyond the prodrome stage." (See The University of Maryland Medical Center's page on recurring Herpes infection, last updated on June 25, 2013) (2).
Once a person experiences the prodrome stage, an active outbreak occurs. "Recurrent outbreaks feature most of the same symptoms at the same sites as the primary attack…after blisters erupt, they typically heal in 6 - 10 days. Occasionally, the symptoms may not resemble those of the primary episode but appear as fissures and scrapes in the skin or as general inflammation around the affected area (2)." In most healthy people, including children, recurring infections tend to become progressively less frequent, and less severe, over time. However, parents should be aware that "the immune system cannot kill the virus completely (2)."
In addition, two strains of Herpes Simplex can cause Oral Herpes outbreaks. These are HSV-1 and HSV-2. "Herpes simplex virus type 1 (HSV-1) is usually the cause of oral infection. After primary infection, HSV-1 becomes latent, usually in the dorsal root ganglia of the trigeminal nerve." (See Patient.co.uk, in page last updated October 15, 2013) (3).
"We recommend that parents ask their child's pediatrician about taking Gene-Eden-VIR. This natural Herpes remedy was proven to reduce symptoms of a HSV-1 infection in a post-marketing clinical study." – Mike Evans, polyDNA
A recent post marketing clinical study published in the peer reviewed, medical journal Pharmacology & Pharmacy, in a special edition on Advances in Antiviral Drugs on August 12, 2013 showed that Gene-Eden-VIR is safe and effective (4). Additionally, up to 70% of those studied reported a decrease in viral symptoms (4).
Each ingredient of Gene-Eden-VIR was chosen through a scientific approach. Scientists scanned thousands of scientific and medical papers published in various medical and scientific journals around the world to identify the safest, most effective natural ingredients that target the latent form of herpes (4).
To learn more about Gene-Eden-VIR and herpes, visit http://www.gene-eden-kill-virus.com/Herpes-Remedy.php. All orders of Gene-Eden-VIR are completely confidential, and no information is shared or sold to any third party. Privacy is assured.
Reference:
(1) Fifteen-minute consultation: a structured approach to the management of recurrent oral ulceration in a child. Published on September 19, 2013.
http://www.ncbi.nlm.nih.gov/pubmed/?term=Fifteen-minute+consultation%3A+a+structured+approach+to+the+management+of+recurrent+oral+ulceration+in+a+child
(2) University of Maryland Medical Center - Herpes simplex. Last Updated on June 25, 2013.
http://umm.edu/health/medical/reports/articles/herpes-simplex
(3) Patient.co.uk - Herpes Simplex Oral. Last Updated on October 15, 2013.
http://www.patient.co.uk/doctor/herpes-simplex-oral
(4) Gene-Eden-VIR Is Antiviral: Results of a Post Marketing Clinical Study. Published on August 12, 2013.
http://gene-eden-kill-virus.com/PP_Gene-Eden-VIR-is-Antiviral.pdf
polyDNA is a biotechnology company that develops dietary supplements using the unique scientific method developed by Dr. Hanan Polansky, which is based on Computer Intuition.
In addition to his unique scientific method, Dr. Polansky published the highly acclaimed scientific discovery, called Microcompetition with Foreign DNA. The discovery explains how foreign DNA fragments, and specifically, DNA of latent viruses, cause most major diseases.
polyDNA developed Gene-Eden-VIR , an antiviral natural remedy that helps the immune system kill latent viruses.