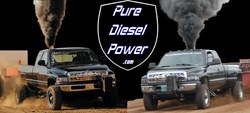 When one thinks of diesel trucks and engines, one thinks of Pure Diesel Power.
Marshfield, WI (PRWEB) January 29, 2014
When one thinks of diesel power, one thinks of the American spirit. That indomitable spirit is fueled on diesel. The open road – dusty and dirty – and the bright, beaming sun off in the profitable distance. Despite tough times, the American Dream perseveres. With diesel power, it will thrive. One must simply look at the following diesel engines: Ford 7.3L, 6.0 & 6.4L Powerstroke; Chevy & GMC 6.6L Duramax; Dodge 5.9L & 6.7L Cummins.
These diesel engines, so full of life, are burning reminders of strength. Pure Diesel Power, the web's premier parts provider for diesel engines, is proud to service diesel truck owners. Having the most complete product listings on the market, customers, including diesel mechanics and enthusiasts, can depend on Pure Diesel Power to find what they are looking for.
When one thinks of diesel trucks and engines, one thinks of Pure Diesel Power. Known for their extensive listing of parts, excellent customer service and dedication to each and every customer, the Pure Diesel Power experience has gotten even better. They are excited to announce the launching of their brand new web store, http://www.puredieselpower.com. Pure Diesel Power has also revamped their mobile site, which will assist customers on smartphones and tablets.
Aiming to please their loyal customers and to attract new ones, Pure Diesel Power has bettered their shopping experience and the site includes a smooth interface that allows for easier navigation, so customers will be able to purchase diesel performance parts in a timely and efficient manner. Whether a customer needs parts for performance, flare or something else, Pure Diesel Power is the go-to provider for all diesel parts.
They have recently loaded over 4,000 differential and driveline parts from Yukon and other quality companies. For easy access to the correct parts customers need for differential or axle parts, the site now has the wizard parts lookup service installed.
Not only has Pure Diesel Power improved the buying experience, they now also have a live chat feature, which will create a constant conversation between supplier and customer. The professionals at Pure Diesel Power will answer any and all questions a customer may have regarding diesel performance parts. Such a feature solidifies Pure Diesel Power as the best parts dealers on the web.
As a thank you to their loyal customers, Pure Diesel Power is currently running a Facebook contest, where one lucky customer can win a $200 gift certificate. If a customer shows them a photo of an item purchased from Pure Diesel Power, he or she is eligible to win the gift certificate. For more information, check out the Facebook link here.
If customers need to log in to their accounts, Pure Diesel Power suggests they use the "Forgot your password" link, so the site can email them a temporary password. That way, everyone will be able to use the new site.
About Pure Diesel Power: The web's premier diesel performance parts provider, Pure Diesel Power carries the best quality parts for the most popular diesel engines. Parts include diesel intakes, performance diesel exhaust systems, gauges and much, much more.