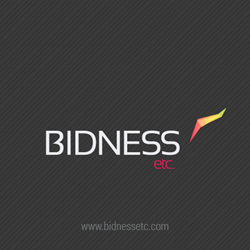 If we hadn't worked like an organic unit from the start, we wouldn't have achieved so much in such little time.
(PRWEB) January 24, 2014
BidnessEtc.com, a new financial media platform that combines deep financial analysis with graphic design, has broken through its 1,000,000 unique visitors target within the first three weeks of January.
"It was not an easy task, and I give full credit to our analysts, writers, editors, graphics designers, and our distribution and technology teams," Mr. Din said. "If we hadn't worked like an organic unit from the start, we wouldn't have achieved so much in such little time."
BidnessEtc.com is currently staffed with more than 70 highly-talented individuals, including financial analysts, graphic designers, editors, social media experts, computer programmers, musicians, aspiring philosophers and writers.
"We all knew it was going to happen, simply because we are so different from everybody else out there," Mr. Din continued. "But reaching this historic number so soon? This is the stuff of dreams!"
Mr. Din says BidnessEtc.com's outstanding accomplishment is a result of the countless nights the team has spent in refining their product. "Our approach to research is different – we think about stocks purely from an investor's perspective, as that is something we are very familiar with."
Mr. Din, along with BidnessEtc.com CEO Nadir Khan, was a key figure in Timescape Global Capital – a hedge fund that managed close to $300 million for clients at its peak. Mr. Khan, who used to manage the fund, is an SAC Capital alum; while Mr. Din has single-handedly traded 1% of the NYSE's daily volume.
These two individuals, along with their team, are leveling the playing field through BidnessEtc.com by providing free-of-charge insights into how the smart money thinks. And the website presents professional research in a way no financial media company has done before: seamlessly fused with visual elements that bring its analyses to life.
"We are not boring – our content has a visual appeal that attracts the Gen Y audience, and we try not to complicate things just to sound smart," Mr. Din said. "And our business entertainment section is a hit with both students of business and professionals. It doesn't hurt to have a little fun while working."
If the numbers are anything to go by, professionals around the world agree. The website's rapid rise indicates that professionals and everyday investors alike seem to love BidnessEtc.com's take on finance – sometimes the least understood subject in modern times.
For more on the company and its vision, visit: http://www.bidnessetc.com/.