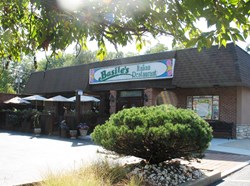 Freehold, NJ (PRWEB) January 27, 2014
Good homemade southern Italian cuisine served fresh by the owners themselves, is hard to come by in this day and age. For a restaurant that has been around for two decades, that is the only way to go. Owners Bob and Alice Pesce opened Basile's Italian Restaurant, located in Freehold, New Jersey, in 1994 with childhood friends, Vito and Isabelle Basile. The family eatery was later completely taken over by Bob and Alice.
Bob, a former New York City firefighter and his wife Alice, an administrative assistant at a Wall Street law firm, never thought about owning a restaurant. As a teenager, Bob worked in a local butcher shop, while Alice had some experience waitressing. "We were very familiar with the business," said Bob. "Between her [Alice] knowing the front of the house and my experience with the back end, we took advantage of an opportunity. I happened to get really lucky, but I was never afraid of taking chances."
The restaurant's customer base is made up of primarily families, serving many of the same customers for years. "Our customers have grown with us," said Bob. "They know us and we know them." The couple also network with other local businesses such as The Wine Room in Manalapan, New Jersey by including links to the business on the restaurant's website. "It's all about connections," said Bob. Many of their recipes originated from their former co-owner's father and came straight from Italy. As time went on new recipes were developed through experimentation with new chefs and cookbooks.
Taking pride in their involvement, the couple says that it is their direct contact with the customers that makes Basile's Italian Restaurant stand out. "It's a place where your customers can feel like they're at their grandmother's house having dinner on a Sunday afternoon," said Bob. "It's an experience that takes them back to their childhood."
In addition to an ala carte lunch and dinner menu, Basile's Italian Restaurant extends space for various events such as seminars, civic organizations, birthdays, weddings, bridal showers, rehearsal dinners and more. They also offer off-premise catering. The restaurant gives patrons a choice of an extensive New Jersey Wine list or bringing their own wine to accompany dinner. Open seven days a week starting at 11:00 am, Basile's features different specials every night. For more information, visit their website at http://www.basilesitalianrestaurant.com/ or call 732.866.4085.
About Bielat Santore & Company
Bielat Santore & Company is an established commercial real estate firm. The company's expertise lies chiefly within the restaurant and hospitality industry, specializing in the sale of restaurants and other food and beverage real estate businesses. Since 1978, the principals of Bielat Santore & Company, Barry Bielat and Richard Santore, have sold more restaurants and similar type properties in New Jersey than any other real estate company. Furthermore, the firm has secured in excess of $500,000,000 in financing to facilitate these transactions. Visit the company's website, http://www.123bsc.com for the latest in new listings, property searches, available land, market data, financing trends, RSS feeds, press releases and more.