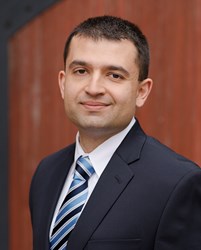 Lancaster, Pa. (PRWEB) January 24, 2014
Glen Shikunov recently joined full-service law firm Hartman Underhill & Brubaker LLP (HUB) as an associate. His focus is real estate, zoning and land use, and business services.
Shikunov, a resident of the City of Lancaster, earned a B.A. in political science at Loyola University of Chicago in 2010 and a J.D. cum laude at University of Pittsburgh School of Law in 2013. Prior to joining HUB, he completed several fellowships and internships and most recently served as a law clerk at Trautman & Associates in Pittsburgh.
Shikunov speaks fluent Russian and his interests include stock investments, foreign language study, competitive chess, powerlifting, and golf. He can be reached at 717-299-7254 ext. 211 and glens(at)hublaw(dot)com.
About Hartman Underhill & Brubaker
Hartman Underhill & Brubaker LLC (HUB) is a full-service, Lancaster, Pa.-based law firm offering comprehensive services throughout Central Pennsylvania in the areas of business, land use, school and municipal, and litigation. Its practice groups include Business Services; Financial Services; Employment, Pension, and Tax; Estate Planning, Succession Planning, and Elder Law; Real Estate, Zoning and Land Use; School and Municipal Law; Litigation; and Family Law.
Established in 1978, HUB has steadily expanded in size, expertise, and depth of experience while enhancing its position as one of the most well-respected and well-positioned law firms in Central Pennsylvania. The firm has offices in Downtown Lancaster and Ephrata, Pa.
HUB's team of 19 attorneys includes partners Michael W. Babic, Thomas W. Bergen, Joshua D. Cohen, Robert M. Frankhouser, Jr., Kevin M. French, Alexander Henderson, III, William C. McCarty, Jeffrey P. Ouellet, Kim R. Smith, Mark Stanley (managing partner), and William J. Zee III; associates Joseph B. Allen, Brandon S. Harter, Kaitlin R. McGinnis, Glen Shikunov, and David M. Walker; and attorneys of counsel Marylou Barton, Mark L. James, and Christopher S. Underhill.
For more information, visit http://www.HUBlaw.com.