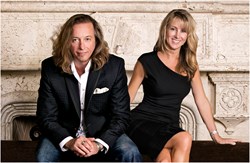 We are excited to be back again at IBS.
Orlando, FL (PRWEB) January 27, 2014
Beasley & Henley Interior Design's award winning principals, Troy Beasley and Stephanie Henley will be speaking at this year's International Builder Show (IBS) in Las Vegas NV, February 4, 5 and 6, 2014. Established by the powerful National Association of Home Builders (NAHB), the IBS anticipates an attendance of 70,000+ people with over 600,000 square feet of product exhibits and 100+ education programs during the 3-day long home building show which is held at the Las Vegas Convention Center.
Beasley and Henley will be speaking on Luxury Home Design & the Consumer Decisions that Drive It on Tuesday, February 4 from 10-11 am in Room South 231. The duo will discuss the resurgence in luxury home sales over the past few years, and how professionals can learn to navigate this market to their benefit and that of their luxury clients.
The team will reunite for their presentation of Design Trends: Ceiling Designs and Lighting in the informal setting of the busy 'Design Studio' on Wednesday February 5 from 4-5pm. The popular Design Studio is open to all IBS registrants.
On February 6, Troy Beasley will provide interior design floor plan review for interested builders and developers during the Interior Design Plan Review Workshop. Builders will bring floor plans to Beasley for his space planning and interior detailing expertise at no charge. There are limited time slots for this in-demand review and interested builders are encouraged to register early to obtain a review time with Beasley. The workshop will be held from 1-3pm in the South 224 room.
"We are excited to be back again at IBS," says Henley. "It is always high-energy and we are looking forward to sharing knowledge with developers, builders and others."
Over the years Troy Beasley & Stephanie Henley have spoken at the IBS, South East Builders Conference, Interface Multifamily Housing Conference, I nstitute of Classical Architecture and Art (ICAA) and in other venues. Troy Beasley is the Florida President of the ICAA. Stephanie Henley is a current member of the NAHB's Design Committee.
Founded in 1993, the 10-member Beasley & Henley Interior Design works with builders, developers and architects in various price ranges providing interior design, interior detailing, space planning, finishes, specifications and FFE.
Beasley & Henley Interior Design is a boutique interior design firm that believes in creating innovative and memorable interior spaces, uniquely suited to client's needs and specific goals. Their services include interior detailing, specifications, drawings, interior design and furnishings for Luxury and High End builders of model homes and private residences. For more information on Beasley & Henley Interior Design or any of their award winning interiors, please call Naples at 239-774-1005 or Winter Park at 407-629-7756 BeasleyandHenley.com