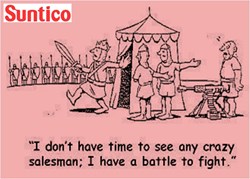 We offer all of our Advisors full marketing support with ready-to-go campaign materials.
Dublin Ireland (PRWEB) January 27, 2014
For Sage partners, promoting add-on products is an obvious way to grow income from an existing Sage 50 customer base. Existing customers trust and rely upon their Sage partners, so regardless of the size of the customer base, capturing a greater share of customer's IT spend is obviously much easier than trying to find new customers.
Suntico offers Sage professionals an easy and hassle free way to increase revenue from their existing customers. The Suntico Advisor Program, developed by former Sage partners who understand what it's like to be a Sage partner, enables Sage professionals to earn up to 30% quarterly commission from new sales, upgrades and renewals of an add-on that can be adopted with less than an hour's training.
Suntico is a social workplace for busy small and medium companies, and has added a whole new mobile and social dynamic to companies that use Sage accounting software. It is a great platform for increasing communication across teams and departments by allowing documents, links and general conversations to be shared and searchable on the content sharing timeline.
For the Sage professional, the Suntico Advisor Program is almost too good to be true. Suntico offers an opportunity to engage with the customer at the most senior level and across departments because the system is a companywide solution. At the same time, there is no need for the Sage professional to worry about any of the technical set-up or support since this is all handled by Suntico staff.
"To make things even easier, we offer all of our Advisors full marketing support, with e-marketing training and ready-to-go campaign materials," says Rachel Kennedy, Head of Marketing at Suntico.
Find out more at http://suntico.com/advisors.
About Suntico
Suntico Holdings Ltd is an Irish privately owned business software development company and an authorized Sage developer that has invested very heavily in innovative research and development since 2009. The result is a social workplace for companies that use Sage accounting products. For more information see http://www.suntico.com.