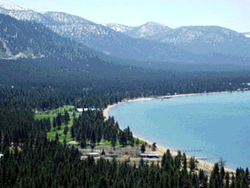 This year's list includes outstanding vacation rentals, hotels, resorts and budget motels, all with a flair that keeps customers coming back year after year.
(PRWEB) January 28, 2014
This winter in Lake Tahoe find the perfect place to set up camp and enjoy all the Lake has to offer. From skiing and boarding to apres - ski drinks at the lodge, winter getaways to Lake Tahoe are full of laughter and good times. Enjoy this year's trip from the comfort of one of the best lodging options in the basin.
Today, VirtualTahoe.com, (http://virtualtahoe.com), one of Tahoe's oldest and most authoritative travel & tourism websites in Lake Tahoe, announced its Winter 2014 picks for where to stay in South Lake Tahoe. This year's list includes outstanding vacation rentals, hotels, resorts and budget motels, all with a flair that keeps customers coming back year after year.
1 - Accommodation Tahoe
South Lake Tahoe vacation rentals with accommodations available for groups from 6 - 12 people. Amenities include hot tubs, fully equipped kitchen, gas fireplace, and internet access.
2 - Buckingham Luxury Rentals
For sophisticated and beautifully decorated properties, Buckingham Luxury Rentals is the way to go. Vacation rental possibilities in most South Tahoe neighborhoods make it easy to find the perfect elegant rental option.
3 - 3 Peaks Resort & Beach Club
Located just a few blocks from the beautiful blue waters of the Lake, 3 Peaks Resort & Beach Club's spacious 5 bedroom cabin is a great option for families or groups looking for a beautiful house with lots of bedrooms just steps away from all the action! Enjoy good rates and a cozy cabin.
4 - Lakeside Inn and Casino
Try your luck at the slots this winter vacation and book a weekend at Lakeside Inn and Casino. Located in Stateline, Nevada, Lakeside Inn boasts incredible dining, fun events, and loose slots!
5 - Lakeland Village Resort
Enjoy the incredible 19 acres of pristine mountainside woodlands at Aston Lakeland Beach & Mountain Resort. Accommodations include hotel rooms in the lodge, and townhomes with kitchens. In town for the skiing/boarding? Enjoy a family ski package for 4 this winter from $245.
6 - Forest Suites Resort
Located at Heavenly Village in South Lake, Forest Suites Resort's ski-in/ski-out accommodations make it easy to access the ski lifts. Enjoy the amenities of Heavenly Village, such as ice skating, from this easy location.
7 - Super 8
Located a quick walk away from the Lake, the Super 8 in South Lake is a perfect homebase for travelers on a budget. Amenities include free WiFi, continental breakfast, and hot tub for after ski relaxing. Plus, Super 8 allows pets, so don't leave Fido at home. Rates as low as $42.
8 - Americana Village
Another easy option for budget accommodations in South lake is Americana Village. Weeknight rates start at $89, and enjoy weekend options for as low as $107. A friendly staff helps make the trip unforgettable, and enjoy an in-suite kitchenette and free DVD library!
9 - America's Best Value Inn
Don't miss out on nearby entertainment and book a stay at America's Best Value Inn on the South Shore. Located within blocks of California/Nevada border, America's Best Value Inn is an incredible option for those who like the slots (located 3 blocks from casinos). Enjoy a free WiFi, continental breakfast, and a hot tub/sauna.
Editor's 2014 Winter Budget Pick
10 - The Lodge at Lake Tahoe
From a studio for smaller parties, to 2 bedroom suites, The Lodge at Lake Tahoe makes it easy to enjoy the winter from the comfort of an intimate suite. Equipped with full kitchens (in larger units), and kitchenettes (in smaller units) the accommodations at The Lodge are perfect for any Lake Tahoe getaway.
About VirtualTahoe.com
VirtualTahoe.com, Lake Tahoe's number one online guide, provides quality information on all things Tahoe. Use VirtualTahoe.com to find information on everything Lake Tahoe from vacation lodging and casinos to ski resorts and boat rentals.