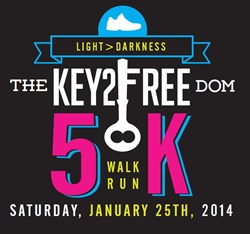 "It's such a worthwhile charity that's bringing a serious concern to light." - Christine Crownover
Austin, TX (PRWEB) January 25, 2014
Cadiz Laser Spa will be helping Key2Free on January 25, 2014 during their Freedom 5K walk/run. The event is being held to bring awareness to the issue of human trafficking both within Texas and around the world, as well as to raise funds for the organization's charity services.
Christine Crownover, the Clinical Manager at Cadiz Laser Spa, expressed that her company is looking forward to the event, stating "It's such a worthwhile charity that's bringing a serious concern to light. Almost 20% of human trafficking in the U.S. happens here in Texas. We want to do our part to end it."
ABOUT THE KEY2FREE FREEDOM 5K
The Key2Free Freedom 5K is set to take place on January 25th, 2014. All of the proceeds from the event will go to the construction of the Freedom House of Texas, Key2Free's first safe house for victims of human trafficking.
Location:
Old Settlers Park
3300 E Palm Valley Blvd.
Round Rock, TX 78665
Events:
Registration – 5:30pm
Kids Fun Run – 6:15pm
Key2Freedom 5K – 7:00pm
Runners can register for the Freedom 5K as either an individual runner or as a team of five or more people. You can also register a child that's 12 years or younger for the Kids Fun Run.
ABOUT THE KEY2FREE ORGANIZATION
Key2Free is a non-profit organization that is focused on creating awareness about the issues of human trafficking in the 21st century and ending these crimes. They work specifically within the state of Texas to provide victims of human trafficking with assistance including shelter and legal counsel. They also work within the community to provide public education and with partners to offer victims additional services.
To learn more about the services provided by Cadiz Laser Spa, please visit: http://www.cadizlaserspa.com.
About Cadiz Laser Spa
Offering the latest in laser technology, Cadiz Laser Spa's experienced medical professionals are focused on helping patients improve their body image and self-confidence. Their state-of-the-art lasers are among the safest and most effective in the industry for a wide range of services. From two locations in the Austin area Cadiz Laser Spa is able to offer clients laser hair removal, cosmetic resurfacing, laser skin treatments, spider vein removal, collagen rejuvenation, facial treatments and more in a relaxed, professional environment.