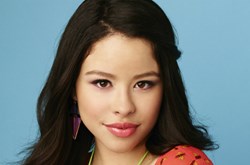 One of my quotes has always been 'if you don't have haters, then you're doing something wrong.' So obviously I knew we were on to something.
(PRWEB) January 24, 2014
Cierra Ramirez, known for her role as Mariana on ABC Family's 'The Fosters,' recently opened up during a conference call about the show. She even talked with TVRage.com's Senior Writer Anthony Marcusa about the show's controversy, adoration of fans and why the series is relatable.
Here's an excerpt from the conference call:
"Actress Cierra Ramirez plays one of the adopted children in Mariana, a 15-year-old who is forced to deal with new environments, growing emotions, and confusion about her past. Ramirez spoke to reporters during a conference call on Wednesday, careful not to divulge too much of the drama in store for the expansive family, but effusive in praise for its reception and early success.
"What's great is to have been able to experience the fans coming up and saying that they relate to a certain subject," she told TVRage. "Recently I have actually met a lot of lesbian couples raising families and blended families. I've been able to speak with them, and they're so excited about the fact that there is something on the air finally that they can relate to."
"The show is really honestly making history I think, it is groundbreaking and its real, and being able to speak with fans is just an awesome thing," added the 18-year-old Houston native."
'The Fosters' airs Monday at 9/8c on ABC Family.