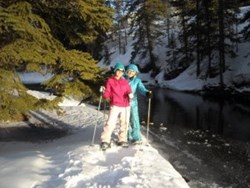 "Snowshoes are an easy family-friendly activity – and a great spontaneous way to enjoy Vail's snow," says Antlers GM Rob LeVine.
Vail, Colorado (PRWEB) January 27, 2014
Vail, Colo., reported the best ski conditions in the country this month, according to Vail Resorts, which announced up to four feet of snow had fallen at Vail Valley ski areas in just the first 10 days of January 2014, bringing visitors from around the world to say "I heart Vail snow." But for snow lovers looking for something to do instead of – or in addition to – skiing Vail, the Antlers at Vail hotel is offering a family-friendly top five tip-sheet of ways to have winter fun outdoors for visitors and locals alike – including stepping out in the snowshoes that the top TripAdvisor-rated condominium hotel provides free for guests:
Make like Bigfoot: Those who've never tried snowshoes might worry about learning curve, but the sport really is as easy as strapping them on and walking outside, says Rob LeVine, general manager of the Antlers at Vail, which recently added snowshoes to the many complimentary amenities the hotel provides for guests. "We love catering to families, and snowshoes are an easy family-friendly activity – and a great spontaneous way to enjoy Vail's snow and scenery. Vail golf course has good beginner trails – and snowshoe rentals for those not lucky enough to be staying at Antlers – or just stroll along the Gore Creek path right outside our door."
Frozen Arches: Travel through undulating walls sculpted from 36,000 pounds of ice by Vail artist Paul Wertin along the Gore Creek Promenade in Vail Village. Inspired by the work of Christo, Wertin's "Arches" is illuminated by programmed LED lights, and is the second Art in Public Places ice sculpture installation of this year's Triumph Winterfest – on display until the ice melts.
The New Home Movies: Capture winter outdoor adventures as they happen with a GoPro camera. Playing in the snow is just that much more fun with a video record to share with friends and family. To help guests remember Vail's epic snow, the Antlers at Vail provides complimentary GoPro loaner cameras at the front desk – and might just post your first-person video debut on its Facebook page.
Tube Time: Nothing says hair-raising fun in the snow like flying down a mountain on an oversized inner tube. Adventure Ridge on Vail Mountain offers a multi-lane tubing hill with an easy-access surface lift for a quick ride back to the top. And the perfect for families tubing hill is only one of the winter activities at Adventure Ridge, which also include ski biking, kids' snowmobiling, and a new winter zipline.
Holiday on Ice: Vail Valley has several facilities for ice skating – both indoors and out – with perhaps the most picturesque experience to be had at the outdoor oval Alderhof Rink in the heart of Lionshead's Vail Square, just steps from the Antlers. Ice skate rentals are available at the rink, which is open daily from 1:00 – 8:30 p.m.
With a policy of "The answer is 'yes,' now what was the question?" the Antlers offers a famously personalized guest experience. Want a cappuccino machine in your suite awaiting your arrival? Need a babysitter for a parents' night out without the kids? Want groceries delivered before your arrival or during your stay? Just ask.
Families of all ages appreciate the Antlers at Vail's comfortable condominium suites. Full-service kitchens allow families to serve homemade meals – with additional amenities including gas-fired barbeque grills and a "lending library" of upscale appliances from that cappuccino machine to a breadmaker. Large families can reserve a spacious multi-room suite, while smaller families may want to take advantage of the Antlers' cozy one-bedroom condominiums – with a separate bunkroom included at no additional charge.
For special rates on an Antlers' stay – including the opportunity to book a spring night April 7 – June 15, 2014, for $99 for any night's stay during ski season – check the hotel website at http://www.antlersvail.com/specials.
COMPANY INFORMATION:
The Antlers at Vail hotel offers a unique Vail lodging experience in a relaxed mountain setting and was recently awarded a TripAdvisor Certificate of Excellence for consistently outstanding traveler reviews. With condominiums ranging from studio suites up to four-bedroom penthouses, every unit at the Antlers enjoys a fully-equipped kitchen, fireplace, private balcony, daily maid service, and complimentary wi-fi and parking. The Antlers has an A+ location on the banks of Gore Creek, just steps from restaurants, galleries, shops, free Vail town shuttle and the Lionshead Gondola. And Antlers' staff is always ready to help with – and offer an insider expert take on – dinner reservations, activities or any other guest request. For more information, call 1-800-843-8245 or visit http://www.antlersvail.com.
MEDIA CONTACTS:
Rob LeVine, General Manager, The Antlers at Vail, RLeVine(at)antlersvail(dot)com, 970.476.2471; Anne Parsons, WordenGroup Public Relations, anne(at)wordenpr(dot)com, 303.777.7667