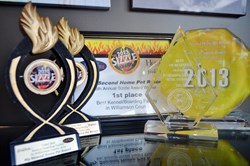 "We believe that it is our duty to be a responsible corporate citizen by providing for the community. It is our hope that our community can become a beacon of hope for pets across the nation." - Chris Starko
Nashville, TN (PRWEB) January 24, 2014
When you think of pet lodging, a tropical landscape probably isn't what you have in mind. However, My Second Home Pet Resort delivers just that. In fact, you can't miss it: the Franklin-based pet lodge boasts a ceiling-high glass wall in the lobby, which offers full views of the indoor island paradise, complete with tropical plants, a waterfall and a sand beach. The lodge's premier doggie suites surround the peaceful scenery, offering each pooch pal a "room with a view". (There are a variety of boarding options available, including cozy accommodations for feline friends.)
The lobby is also home to a uniquely appointed retail shop, and the front desk is staffed by a cheery crew of staff members waiting to welcome you. If it sounds different than any kennel you've tried, it's because it is. In fact, My Second Home began with the mission to create not a kennel, but a true pet resort offering the best in lodging and dog daycare.
New Offerings and Upgrades
Founded in 2004 by Dan Starko, the resort has gathered a devoted clientele, thanks to their top-notch accommodations and dedicated staff. This year, they're raising the bar yet again with a number of new upgrades and offerings for dog and cat boarding, including a new 7,000 square foot artificial turf yard designed with the highest quality canine grass available. The new turf will complement the current play pavilions and will feature over an acre of grassy fenced field and a covered play area with misting systems to help keep dogs cool when Tennessee heat rolls in. New play equipment will also be in place for daycare and lodging group play.
Indoors, new memory foam bedding provides pets with ultimate comfort while daily 5-point wellness checks ensure that every pet is as happy and healthy as possible. The resort is also hiring a bevy of new staff, including a dedicated activities coordinator, four new customer service specialists and over ten full and part time resort staff. The larger staff will provide a reduced pet to staff ratio, allowing for an even more individualized experience for every pet throughout their stay.
Along with expanded hours of operation, My Second Home has also received certification through the Outstanding Pet Care University due to the successful completion of its specialized training and educational programs. This is the first facility that offers cat and dog boarding in Nashville, Franklin, or Brentwood to do so.
But increased amenities and service isn't the end of plans of 2014. According to Chris Starko, the resort's director of marketing, My Second Home will also be offering fun community-based events, such as educational sessions, pet birthday parties, puppy proms, holiday arts and crafts and more. "We want to better connect with the Middle Tennessee animal community as well as offer fun activities for our clients," says Starko. "We'll be vamping up our event offerings as well as the creation and syndication of pet news, tips and more through our social media pages and blog."
Continued Commitment to Pet Rescue and Adoption
In addition to My Second Home's commitment to their clients and to the pets in their care, they also have a strong history of supporting animal welfare within our community and are dedicated to finding new ways to support vital animal causes.
"We have made significant efforts to support the entire pet community in Middle Tennessee," says Chris. "We believe that it is our duty to be a responsible corporate citizen by providing for the community. It is our hope that our community can become a beacon of hope for pets across the nation, and we want to be a part of that change."
In line with that mission, My Second Home recently donated $10,000 to Agape Animal Rescue and plans to continue the fundraising as an annual campaign. The resort provides free grooming services and free lodging to a number of local animal rescue groups, including Agape, Happy Tales Humane, Nashville PITTIE, Westie Rescue and others.
Madison, for example, is a Labrador Retriever mix who was rescued by Happy Tales Humane after being tied to a tree her entire life. "At first, she was terrified," recalls Chris. "She was shy and distraught, but with great effort and love, she has become an energetic, social and happy pup who brings smiles to everyone she greets. She enjoys our full daycare services with many new canine friends."
Plan your Doggie Destination
Whether you're headed out of town or your pup pal could use some extra playtime while you're at work, My Second Home offers the best in pet lodging and daycare, rooted in a mission to help animals who aren't as fortunate as yours. What's not to love?
NEW CLIENT SPECIAL: If you're ready for a resort tour or to make a reservation, mention this article to receive half-off boarding (for new clients only). For more information, call (615) 771-7794 or visit mysecondhome.com.