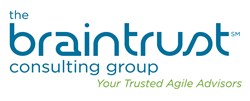 Birmingham, AL (PRWEB) January 27, 2014
The Braintrust Consulting Group announced that they will host a User Story Workshop on February 11, 2014 in Atlanta, Georgia at the Hampton Inn & Suites-Galleria location from 8:30 a.m.-4:30 pm. This announcement was part of Braintrust's unveiling of their national training class schedule for 2014.
The one-day User Story Workshop offers attendees an in-depth focus on how to gather Agile requirements and document them as User Stories. Hands-on exercises demonstrate key concepts and whenever possible, real-world examples are brought in from the course participants work in order to jumpstart an individual's Agile product.
Braintrust's User Story Workshop is ideal for business analysts, product managers/owners, and anyone who will be involved in writing User Stories. The workshop is essential for those who are interested in learning how to capture stakeholder business needs, produce effective User Stories, create better product backlogs and learn the method of story mapping for better User Stories.
The Braintrust Consulting Group chose Atlanta because it is one of the fastest growing high-tech urban centers in the nation. Braintrust President, Brian Rabon said, "Our decision to host classes in Atlanta was based on the city's commitment to the more than 13,0000 technology based companies. We are proud to contribute to their technology industry by bringing our world-class training to Atlanta."
John Miller, CSP, PMP, will teach the class. Miller is an IT professional with over 15 years of industry experience. He is a Certified Scrum Professional (CSP) from the Scrum Alliance, a Project Management Professional (PMP) from the Project Management Institute, ITIL Foundations Certified, State Government Certified Project Manager from the Government, Information Technology agency (GITA), and a Certified Support Center Director from the Help Desk Institute. He is also a frequent presenter at technology conference and was a speaker at Scrum Alliance Global Gathering in Atlanta. As an Agile Trainer and Braintrust Coach, Miller blends people process, tools, and training into one seamless formula in order to help clients break through roadblocks, improve processes, meet deadlines, and exceed goals.
To sign up and learn more details about the User Story Workshop, as well as other upcoming Braintrust classes, please visit: http://braintrustgroup.com/class/user-story-workshop-usw-atlanta-ga-11-february-2014/.
###
About The Braintrust Consulting Group
With offices in Birmingham, Alabama, Los Angeles, California, and Salt Lake City, Utah. The Braintrust Consulting Group is a worldwide leader in Agile transformations. Through practical, hands-on training and enterprise and team coaching, we help our clients learn, plan, and implement Agile processes, such as Scrum and Kanban. Our goal is to teach our clients how to increase predictability of delivery, decrease time-to-market, and improve overall client satisfaction. http://www.braintrustgroup.com