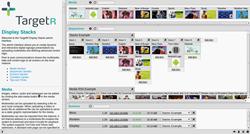 Tonbridge, UK (PRWEB UK) 28 January 2014
TargetR Display Stacks will be provided free of charge for use on up to 4 local screens and will be available on Google Play from the 28th of January. Everything needed to get started is included with no complicated installation or setup required.
Relevant and dynamic multimedia presentations require more than simple date and time scheduling. TargetR Display Stacks unlocks new possibilities because both logic and data can be modified in real time automatically. It is finally possible to display an ice cream advert between June and September when the temperature is above 25 degrees centigrade; ice cream is in stock and the screen is within one mile of the beach. The stacking concept and the powerful administration interface sets Display Stacks apart from traditional solutions typically restricted to playlists and simple scheduling.
Interactivity is a rapidly emerging area for digital signage. As people become accustomed to touch screens on phones and tablets they expect more from screens displaying advertisements out of the home. Display Stacks can be configured to display specific media or sequences after touching regions of the screen and also supports interactive HTML5 content - ideal for kiosks. The events system even allows simple gesture control using the built in face detection.
Transferring high definition multimedia content is very demanding for slow Internet connections, especially when there are many screens on the same network. Display Stacks builds a powerful peer to peer network where data is transferred locally between screens quickly and efficiently. As an added benefit, it is no longer necessary to have a central server, making this a very cost effective solution.
TargetR is a leading innovator in digital signage using low cost Android devices. TargetR Display Stacks is available on Google Play now, free of charge for the first 4 screens.