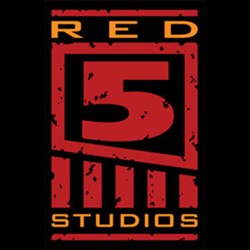 This is the year Firefall takes flight. The entire Red 5 tribe is focused on creating top quality content that will take Firefall to the next level and we are excited for this next stage of development. - James Macauley
Laguna Hills, CA (PRWEB) January 24, 2014
Red 5 Studios, a game development studio working on the Free-to-Play online MMO, Firefall, announces that it has entered into share purchase agreements with additional investors for approximately $23 Million in a Series B funding round.
"This additional round of funding will offer us the means to execute on our plan for successfully launching Firefall in 2014," said James Macauley, acting CEO, Red 5 Studios. "This is the year Firefall takes flight. The entire Red 5 tribe is focused on creating top quality content that will take Firefall to the next level and we are excited for this next stage of development."
Red 5 Studios has achieved substantial growth over the Beta period in 2013 and is working to expand the game to include highly anticipated features for Firefall. Players will begin to push back the Melding and take the fight directly to the Chosen. A new story-based campaign will be released soon that introduces new characters and starts to reveal the secrets behind the Melding and the events that have befallen Earth. Later this year, players will take combat to a new scale with the introduction of open-world PvP, as whole armies fight for the control of new areas revealed within the depths of the Melding.
About Firefall:
Firefall is a Free-to-Play MMO Shooter set in a unique and beautiful science fiction universe where players are part of the last remnant of humanity. Earth is under attack by an aggressive energy storm called the Melding and a mysterious race, known as the Chosen. Firefall promises a never before seen original genre, blending the best of true shooter gameplay with rich MMO world elements.
Visit http://www.firefallthegame.com for more information.
About Red 5 Studios:
Red 5 Studios is a AAA online game developer located in California that is dedicated to bringing together millions of gamers from around the world by creating rich, immersive, shared worlds and gaming experiences. Red 5 Studios believes that online games and persistent worlds offer a critical platform for fun and compelling social interactions.
Visit http://www.red5studios.com for more information.
Contact:
For additional inquiries, contact press(at)red5studios(dot)com.