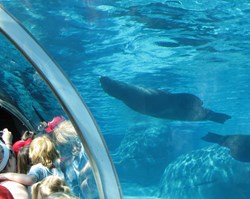 'I am always amazed by the uniqueness and scale of the projects we create; and how we, as a company, can make the client's dream become reality.' -Josh Fritz
Grand Junction, CO (PRWEB) January 26, 2014
Reynolds Polymer Technology is proud to announce two promotions. Dan David accepted the position of Director of Sales for Water Retaining Projects, and Josh Fritz is now Global Director of Sales for Special Projects, Architectural, and Commercial Projects. Their advancements will result in a more focused sales approach in order to meet the market's growing demand in these critical areas.
Dan David has spent over five successful years at Reynolds Polymer, primarily covering the eastern US and Canada. His success stems from 25 years of plastics experience and his love for solving problems in order to bring client's visions to life. In his new role, Dan will handle all aspects of the sales process for water retaining projects; this includes initial contact to building lasting relationships through the project close and into the future. He is excited to be involved in some of the truly breathtaking projects that RPT brings to life. "Having been in plastics for over 25 years, I am still amazed every time I visit the Reynolds production facilities and see the new, innovative things we can do with acrylic," he said when referring to his favorite aspect of RPT. Dan has been integral in several projects including the award winning Sea Lion Sound at the St. Louis Zoo, Jane's Carousel and the Henry Doorly Zoo and Aquarium. Currently, he is involved in the renovation of the Wonders of Wildlife Museum and Aquarium in Springfield, Missouri, the New York Aquarium and the Rosenstiel School of Marine and Atmospheric Sciences Wave Tank. Dan is based out of the Missouri office and can be reached at ddavid(at)reynoldspolymer(dot)com.
Based out of RPT corporate Headquarters in Colorado, Josh Fritz has been an intricate part of the RPT sales team for the past eight years. During that time he has gained extensive knowledge in the industry and has been involved in numerous large scale developments. Josh was influential in the creation of the elegant statue in the Palazzo Resort and the scientific DEAP sphere. As the Global Director of Sales, Josh will now be accountable for all special, architectural, and commercial projects worldwide. He enjoys the diversity of people he is privileged to meet through RPT and will use this strength to fulfill one of his new responsibilities - to grow customer relationships and develop target markets on a global level. Josh will be responsible for expanding the architectural market and showcasing our innovative products. "I am always amazed by the uniqueness and scale of the projects we create; and how we, as a company, can make the client's dream become reality."
In addition to his experience with water retaining applications, Josh Fritz has been pivotal in the development and expansion of RPT's current architectural acrylic line. Mr. Fritz has been involved with the hospitality and entertainment industries, along with medical and scientific applications at both the community and national levels. Recently, he partnered with other Colorado business professionals in the production of Remember, an acrylic memorial dedicated to the victims of 9/11, and the renovation of the SpringHill Suites® by Marriott. Contact Josh at jlfritz(at)reynoldspolymer(dot)com.