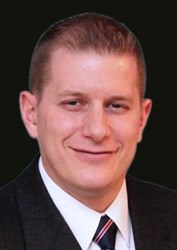 Winamac, IN (PRWEB) January 27, 2014
BraunAbility officially welcomed Phillip D. Bell as Director, Commercial Lift Product Portfolio Management & European Region. Phill will lead the organization's strategy to enhance the commercial lift product line, ensuring the portfolio meets customer needs with solutions fit for local market requirements, an imperative as BraunAbility expands in the European market.
"We welcome Phill to the BraunAbility team and look forward to the experience and knowledge he'll bring to the wheelchair lift market domestically and globally," said Greg Cook, Vice President of Commercial and International Sales.
Phill has experience in global market strategy from his time at Corning, Inc., a specialty materials company that is widely recognized for the methods it employs to commercialize new and breakaway technologies worldwide. Phill was also a Captain in the United States Air Force, holds a BS in Mechanical Engineering from Oregon State University, and earned an MBA from Cornell University in Ithaca, New York.
Phill will assume responsibility for the growth of BraunAbility's business interests in Europe, building even stronger relationships with channel partner and sister company, Autoadapt.
---
BraunAbility is the world's leading manufacturer of wheelchair accessible vehicles and wheelchair lifts in the mobility industry. Founded nearly 50 years ago by Ralph Braun, the corporation was built on the age-old adage, "Necessity is the mother of invention." Ralph Braun was a young man who used a wheelchair and had no reliable transportation to and from his place of work. He built his first wheelchair accessible vehicle in 1972, and since then the company has grown into the most well-known and experienced name in the mobility industry, bringing independence to tens of thousands of individuals across the world.