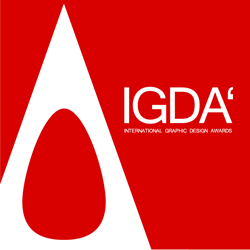 The very best of graphic design theory and practice will be celebrated at the A' International Graphic Design Awards.
Como, Italy (PRWEB) January 27, 2014
One of the most-coveted accolades in the graphic design industry, the A' International Graphic Design Awards (IGDA) is calling for entries in graphics design and visual communication by creative directors, graphic designers and advertising agencies worldwide.
Entries will be judged by an international panel of design experts, established scholars, and media members. The IGDA competition has attracted more than 6,000 participants from a total of 85 countries since the program was introduced in 2009. Designers worldwide are invited to enter their best graphic design works to compete for fame, prestige, publicity and international recognition.
Platinum, Gold, Silver, Bronze and Iron Design Awards will be given to the best graphic works. Regardless of the award status, the graphic design award winners will all be presented trophies and certificates, will be featured in the annual yearbook. Laureates will further be allocated exhibition space and invited to the gala-night in Italy. Award winners will also get a PR Campaign package to celebrate their status.
The PR Campaign for International Graphic Design Award winners includes communications to thousands of magazines, press release preparation and distribution, as well as the ability to participate in exclusive events and networking dinners. For submission guidelines, design competition categories, prize information and the competition jury please visit adesignaward.com
Applications to the International Graphic Design Awards can be made online at A' Design Awards. Entries must be completed by midnight February 28, 2014. Results will be announced on April 15, 2014. Any work designed in the last 10 years is eligible for participation, works that are older than 10 years could be entered to the creative legacy category instead.
About the A' International Graphic Design Awards
The A' International Graphic Design Awards were established to highlight outstanding designers and creative agencies, providing them a way to reach an influential international audience of design enthusiasts and media members. A' Design Award aims to provide valuable international recognition and publicity opportunities for talented designers, design studios and advertising agencies by showcasing their very best graphic design works demonstrating exceptional creativity and excellence. The Ultimate aim of the accolades is to push forward frontiers of graphic design profession by creating incentives for graphic designers from all countries to come up with better, visually appealing and socially responsible graphic design works. To learn more about the accolades, visit http://www.whatisadesignaward.com.