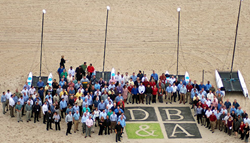 Dallas, TX (PRWEB) January 27, 2014
History
The Annual Meeting is held each year as a way to maintain the tradition started in 1989 of a decentralized workforce coming together as one whole organization. At this year's meeting, current CEO Michael Owens reminded the company that DB&A's unique methodology, steadfast commitment, and resultant success stem from the enduring philosophy of Lou DeWolff and Tim Boberg, who founded DeWolff, Boberg & Associates in 1987. At the Annual Meeting, the entire company had the opportunity to honor the sacrifice and service of DeWolff and Boberg.
Process
This year's theme was, "One Company. One Voice." One segment of the meeting highlighted the interconnectivity between the four functions of the organization and showed how there must be consistent messaging and an accurate and seamless "passing of the baton" from one area to the next. For clarification and inspiration, select members of the team demonstrated this proven process with one of DB&A's successful projects.
People
Michael Owens also detailed the investment in the development of DB&A employees. Additionally, a new "people" initiative was introduced. During the Annual Meeting, DB&A employees contributed to grant a wish for a 12-year-old child with a life-threatening medical condition. DB&A also kicked off a "Wishes in Flight" frequent flier mile campaign where miles may be donated to Make-a-Wish beginning January 1, 2014 and continuing throughout the year.
Results
The Annual Meeting also presented the opportunity for DB&A to honor superior results by granting a winner to the coveted Chairman's Award. This award recognizes work performance and service of the highest caliber – above and beyond the high expectations DB&A has for all employees. Candidates are nominated by their peers and selected by the CEO. This year's recipient is Chief of Operations, Brian Phillips.
History. Process. People. Results. This is not simply a tagline. It's what DB&A values.