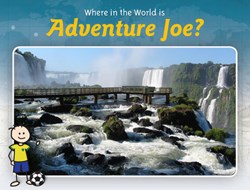 Montrose, CA (PRWEB) January 24, 2014
Throughout January and February, Montrose Travel encourages everyone to play "Where in the World is Adventure Joe" and enter for a chance to win a 7-Night Viking River Cruise Journey. Each week, Montrose Travel's animated mascot "Adventure Joe" will guide travelers to a new featured destination via an online contest. Contestants may participate by visiting http://www.montrosetravel.com/contest.
Destinations from around the world will be highlighted along with special offers and promotions to start the New Year with great travel deals. From outstanding all-inclusive vacations to 2-for-1 cruise fares, there is a wide variety for all travelers.
Each week, Adventure Joe is shown in a photograph of a popular international destination. Contestants can give their best guess as to the particular landmark featured in the photo. If answered correctly, the contestant will receive five entries to win a 7-Night Viking River Cruise Journey. If answered incorrectly, the contestant still receives one entry just for submitting the vote. Fun facts and a description of Adventure Joe's location accompany the entry submissions each week. The contest winner is drawn at random at the end of February.
Readers are invited to tune in each week to see where Adventure Joe appears next, and for a chance to win. For more information or to book this year's vacation, contact Montrose Travel at 800-MONTROSE or http://www.MontroseTravel.com.
ABOUT MONTROSE TRAVEL
Celebrating 56 years in business, Montrose Travel, a family-owned travel management company, has grown from 14 employees in 1990 to more than 200 today and is now firmly established as a Top 50 Travel Management Company and a Top 5 Host Agency nationwide at $200+ million in sales. Montrose Travel strives to provide the highest quality services and most complete vacation, corporate travel, loyalty and group travel management solutions for its customers and home-based travel agents. Montrose Travel "will be here tomorrow to back up our promises of today!" Montrose Travel can be reached at 1-800-MONTROSE (666-8767) or by visiting http://www.montrosetravel.com. Visit Montrose Travel's Corporate Division at http://www.montrosecorporatetravel.com or call 1-800-766-4687. Home-based independent travel professionals may visit http://www.MTravel.com, email epeters (at) montrosetravel (dot) com, or call 1-800-870-5799. CST#1018299-10