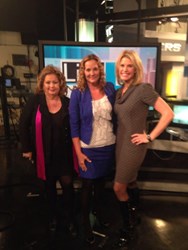 Detroit, Michigan (PRWEB) January 26, 2014
Laurie Cunnington and Lori Blaker, representing the Women of Tomorrow Detroit Advisory  and Scholarship Committees, took to the airwaves to discuss how professional women are helping at-risk girls in public schools turn their lives around through mentoring and scholarship opportunities.  
 
Both Cunnington and Blaker have played an integral role in the establishment of  Women of Tomorrow in Metro-Detroit and they have been instrumental in developing scholarship partnerships and raising scholarship funds for this year's  graduates.  In an interview with WDIV co- host Karen Drew, Blaker and Cunnington shared that The Metro Detroit Women of Tomorrow organization has successfully raised over $300,000 in scholarship funds and that this money will be available for the first graduating class of Women of Tomorrow mentees.
"This is our future," exclaimed Cunnington, "and if you had the opportunity to meet personally any of these young women you would realize it!  For many of these young women they are not only the first in their family to go on to college, but they are first to graduate from high school. I believe education is the key to change and thanks to the generosity of organizations like Northwood University, Central Michigan, Michigan State University, and Rochester College many of these young area women will get the support they need to fulfill their goals and dreams of success."
After recognizing the impact of the Women of Tomorrow program Drew asked Blaker, "You are transforming lives, you are touching lives, talk to me a little bit about these at-risk girls, why is it so important to be there for them?" Blaker responded, "Basically we are all that some of these girls have. We show up every month and as time goes on the girls find it amazing. We pair highly accomplished professional women with small groups of at-high-risk girls at local high schools across the metro Detroit area. These are small school-based groups, where we conduct monthly mentoring sessions with the girls. We conduct career focused field trips, campus visits and now we have our exciting and scholarship opportunities."
The Women of Tomorrow Detroit Scholarship Committee members are Lori Blaker, President & CEO, TTi Global, Laurie Cunnington, President, Ward Williston Oil Company, Joanne Faycurry, Partner, Schiff Hardin, Ellen Hill Zeringue, VP Marketing, Detroit Tigers and Jacquise Purifoy, Attorney, Law Office of Jacquise A. Purifoy PLLC. 
About Women of Tomorrow Mentor & Scholarship Program Women of Tomorrow, founded in 1997 in South Florida, expanded into Metro Detroit in 2011, thanks in part to a generous grant from the John S. & James L. Knight Foundation. The program now mentors approximately 800 at-risk girls in 35 public high schools across Metro Detroit through its unique program which pairs small groups of girls with highly accomplished professional women.
Conceived by Television Journalist Jennifer Valoppi and co-founded with Don Browne, retired Telemundo Network President, Women of Tomorrow is designed to inspire, motivate and empower at-risk young women to live up to their full potential through a unique mentoring program with highly accomplished professional women and scholarship opportunities. For more information, call 248. 430.4095 or visit http://www.womenoftomorrow.org
http://www.clickondetroit.com/news/Women-of-tomorrow-helping-girls-prepare-for-college/-/1719418/24075700/-/xsub22z/-/index.html