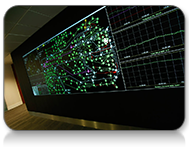 DistribuTECH, San Antonio (PRWEB) January 29, 2014
Christie is showcasing its broad range of high performance video wall and content processing solutions at DistribuTECH in San Antonio, Texas, January 28-30. A leading player in command and control markets that include utility, government, traffic control, and network operations, Christie will have on display a 2 by 2 video wall composed of Christie Entero HB 80 inch SXGA+ high brightness display cubes, the only LED control room solution to offer wireless control through Wi-Fi. The wall will feature the Christie TVC-700 controller, which handles a wide variety of digital sources and displays, and Christie MASTERSuite content management software, which enables tiled video wall displays to respond as a single, ultra-high resolution Windows desktop with convenient and intuitive control from nearly anywhere. Also on display will be a 2 by 2 array of Christie FHD551-X tiled LCD flat panels featuring super-narrow bezels, using Christie Phoenix network-distributed processing, which enables seamless display, access and control of audio-visual data, regardless of the user's location.
With more than 30 years of industry expertise and a global footprint in control rooms, Christie's innovative solutions are among the first to address the ever-increasing mobile workforce, enabling multiple users from almost anywhere in the world to collaborate, share and interact with information from virtually any device. Christie's large format, high-resolution displays easily install in the most challenging spaces, while its content processing and management solutions enable control of a wide range of content from almost any digital source. These powerful 24/7 solutions facilitate accurate monitoring and fast decision making while also being flexible, easy to install, and affordable.
The Christie Entero HB series of high performance, stackable, LED-illuminated rear-screen and front-access projection display cubes, are available in a variety of sizes from 50 inch up to 80 inch, with larger and custom sizes also available for specific user requirements. Christie also recently introduced a new series of front-access Christie Entero HB display cubes that feature a remote screen release system and more efficient airflow that allow for placement against a rear wall, expanding installation options and ease of maintenance. Christie's series of LCD flat panels enable high-definition, nearly seamless tiled display walls that dont compromise on quality, and keep operating costs low.
Control Room Solutions for Mission-Critical Monitoring
Todays control rooms go beyond traditional displaying and monitoring, and Christies collaborative visual solutions are removing boundaries and enabling expansive collaboration for the worlds most mission-critical operations. By integrating stunning, zero-maintenance displays with the power of the network, Christie is completely redefining the control room space and setting the stage for an increasingly distributed control room environment. Across every sector in business, commerce and government, Christie is raising the bar to exceed todays control room operational requirements.
About Christie
Christie Digital Systems USA, Inc. a wholly-owned subsidiary of Ushio, Inc., Japan, designs, builds and installs customized projection display solutions. Christie® delivers turn-key solutions for sophisticated virtual reality, simulation systems and control room environments including high-resolution power walls, multi-sided immersive environments, curved screen displays, domed simulation and multi-projector arrays. Industries and organizations that rely on Christie range from government agencies to oil and gas, aerospace to entertainment, and manufacturing and design to pharmaceuticals. For more information, visit http://www.christiedigital.com.
-30-
For more information contact:
Carmen Robert, Christie
519-572-5824
Carmen(dot)robert(at)christiedigital(dot)com
Mario Almonte
Herman & Almonte PR
(212) 616-1190, ext. 267
malmonte(at)herman-almontepr(dot)com
Follow Christie at:
Facebook.com/christiedigital
Twitter.com/christiedigital
"Christie" is a trademark of Christie Digital Systems USA, Inc., registered in the United States of America and certain other countries.