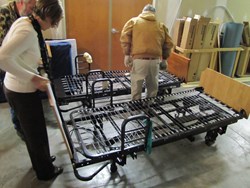 Cooperation between two organizations committed to good stewardship of their resources... at Cross Keys Village, that's hardly unusual.
New Oxford, PA (PRWEB) January 27, 2014
Recently, in Cross Keys Village storage room, team members from another nursing home hauled used but nice-looking bed frames out to their own truck. Cross Keys Village had replaced them, even though they still had years of life left, because they were switching to larger beds.
To the receiving organization, these second-hand electric beds represent an upgrade over what is currently being used (older crank-model beds). To its residents, life may get a little bit better when these beds go into their rooms. Residents here will notice a difference too, because they will have six inches of additional width to their beds, so they can be more comfortable and less at risk of falling out of bed.
Purchasing Director Linda Laird got the ball rolling on this project. Rather than have the supplier of the new beds haul the old ones away – quite likely to a landfill – she started calling other nursing centers in the area and found a taker. The other organization also had use for some dining room chairs no longer needed after years of faithful service in our Campus Inn and then our Terrace Dining Room.
All this meant that furniture and equipment that could still be used would still be used, thanks to cooperation between two organizations providing similar services and committed to good stewardship of their resources. At Cross Keys Village, that's hardly unusual. They already recycle other materials where possible: aluminum cans and cardboard are sold (benefitting the Good Samaritan Fund and the general fund, respectively), and other items are collected by the Adams Rescue Mission, which uses the proceeds to further its Christian Mission.