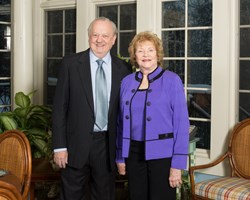 Allentown, PA (PRWEB) January 27, 2014
William and Phyllis Grube and Lehigh Valley Health Network (LVHN) have been named the 2014 Associates Award winners, an honor presented annually by the Associates of Cedar Crest College to recognize those who have made significant contributions in the local community. The dinner to honor Mr. and Mrs. Grube and LVHN will take place on Tuesday, March 11 at 6 p.m. at Lehigh Country Club.
"William and Phyllis Grube are extremely deserving of this recognition as they've had a longstanding commitment to women's education and women's leadership, in addition to their support of community organizations across the Lehigh Valley," said Cedar Crest College President Carmen Twillie Ambar. "Their commitment to Cedar Crest and the local community has really made a difference in many individual's lives."
William and Phyllis Grube co-founded Night Vision Equipment Company (NVEC) in 1977. Located in Upper Macungie, Pa. and Prescott Valley, Ariz., NVEC manufactured night vision and laser products for the U.S. military and federal agencies. NVEC worked closely with several Department of Defense agencies to develop new products for "combat search and rescue" and "close air support and combat." After selling their business in 2004 to DRS Technologies, Mr. and Mrs. Grube continued to be involved in the Lehigh Valley by participating and supporting several organizations including the Fund to Benefit Children and Youth, the Baum School of Art, the Allentown Art Museum, Allentown Symphony Hall and Cedar Crest College. Both received the Outstanding Philanthropist Award from the Eastern Pa. Chapter of the Association of Fundraising Professionals in 2008.
"I think people that have the ability should give back to the local community," said Mrs. Grube. "It's important to pass on the good things that happen to you. It doesn't matter what you give, it's just the thought that you give something."
Susan Hoffman, Vice President, Marketing and Public Affairs at LVHN, said that their organization's community benefit recently reached $326 million by providing free care, care at reduced cost, education, free flu shots and more. She added that LVHN continuously works to meet the needs of the community, which they are doing currently through projects like the Health Care Center in Bangor opening in February and the arena in Downtown Allentown expected to open in July.
"LVHN is a non- profit charitable organization. It is part of our mission to give back to the community," she said. "We are honored to be recognized by Cedar Crest with this award. Cedar Crest has been an outstanding member of the community for many years and we admire their focus on educating women."
For 18 years, LVHN ranked among the nation's top hospitals in U.S. News and World Report's Best Hospitals category. LVHN includes four hospital sites, the only children's hospital in the Lehigh Valley and 40 community clinics. With more than 13,000 employees, they continue to provide the Lehigh Valley and the Greater Hazleton area with leading-edge health care and have, as their tagline says, a passion for better medicine.
"We view LVHN as an institution with a close connection to our mission," said President Ambar. "What they do medically, we do academically. We wanted to recognize that commitment to the individual as well as the strong support they've given to the College and hundreds of Cedar Crest nursing graduates."
Past Associate Award Recipients include David M. Jaindl, Lee and Dolly Butz, Maria Rodale, Ilene Wood and the late Robert Wood, and the late Marlene "Linny" O. Fowler. The Associates were founded in 1964 in an effort to develop close ties with business and community leaders to directly participate in the development of higher education. The funds raised through the organization are used for student scholarships each year.
Presenting sponsor for the 2014 Associates Award is National Penn Bank. Platinum sponsor is Highmark Blue Shield. To purchase tickets, contact Brooke Schiavone at 610-606-4666 ext. 3644 or email her at brooke.schiavone(at)cedarcrest(dot)edu. For more information visit http://www.cedarcrest.edu/associatesaward.