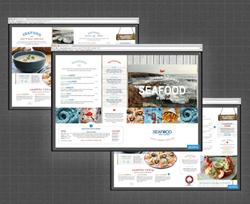 The Design Studio takes all the guesswork out of creating files to print on Blanks/USA products.
Minneapolis, MN (PRWEB) February 25, 2014
Blanks/USA, a premier producer of pre-converted paper and security paper, has introduced a free, online Design Studio at http://www.BlanksUSA.com/templates. This new online application features templates for laying out designs to be printed on Blanks/USA's unique product sizes and shapes. The Design Studio is ideal for amateur designers, since owning software or being familiar with design programs is not required to create layouts.
Blanks/USA's paper products are perforated, scored, and converted before printing and often feature non-traditional formats. Laying out designs for business cards, door hangers, raffle tickets, and other die cut shapes and boxes without using pre-formatted templates can be challenging even for skilled designers.
To minimize the challenge of laying out designs, the templates on the Design Studio were created to match Blanks/USA's 24,000+ products. Using the online Design Studio to design layouts can be an attractive alternative to downloading templates for common software programs, since no ownership or knowledge of design software is required.
The streamlined online Design Studio interface has the features of common design programs readily available on a toolbar or at a click of an edit button. Users can save their designs for future editing. Once a design is complete, users download a print-ready PDF that can immediately be printed on their existing desktop inkjet or laser printer, or on a digital press.
"The Design Studio takes all the guesswork out of creating files to print on Blanks/USA products," stated Jessica Gleason, Creative Director at Blanks/USA. "It was created to fit the unique sizes and shapes of each product. Also, there's no copying and pasting when there are multiple items on a sheet. After the user creates the design once, the Design Studio generates a file with it in the right locations, even when there is more than one item on a single sheet."
For over a decade, downloadable templates for common software programs provided guidance for customers laying out designs. Blanks/USA created the Design Studio as a direct response to customer questions about how to use the software programs for which Blanks/USA product templates are offered.
Ryan Hanf, Ecommerce Manager notes, "The last thing we want is for someone to have trouble designing their file to print on our product. It needs to be as easy as possible. Too many people had questions about the functionality of their software package and not about the templates themselves. We realized we needed a better solution. That's where the Design Studio comes in. Our customers shouldn't have to be experts at using design programs in order to get the most out of our products."
Blanks/USA, a premier producer of pre-converted paper and security paper, is based in Minneapolis, MN and provides innovative paper solutions for paper merchants, printers, and end users. Over 24,000 pre-converted die cut formats and security papers streamline printing processes and reduce the cost of finishing. Recent innovations include integrated cards, Smooth Edge Business Cards, Copytabs with OmniClear technology, and much more. Extensive custom capabilities solve a wide variety of converting challenges. Visit BlanksUSA.com for more information.